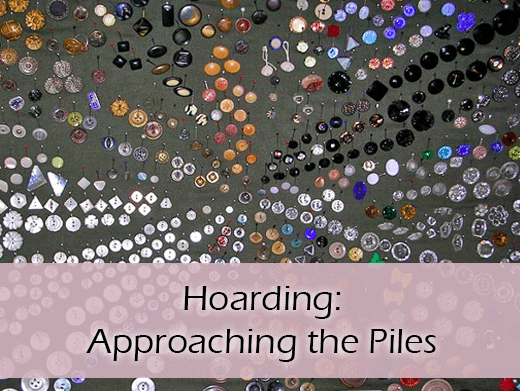 We all know what hoarding is thanks to the TV show, Hoarders; Buried Alive.  One usually thinks, "How can they live like that, why don't they clean it up, or throw that stuff away!"  However, to the hoarder they don't see themselves living in clutter and mess, they see all of the items as important.
What is Hoarding?
Wikipedia defines hoarding as, "A form of an anxiety disorder … where the perceived importance of the hoarded items far exceeds their true value.  [A Person] may lose the desire to throw away unneeded items because of a feeling of attachment to these items. In severe cases, houses belonging to such people may become a fire or health hazard."  To the hoarder, the items they have collected will be needed or will have value in the future.
When I think of hoarding, I recall a previous resident who suffered from hoarding.   She came to us because her hoarding behaviors made it unsafe for her to live in her home.   The piles of clutter only left a small pathway for walking, not suitable for her walker.
Once she moved to our Senior Living community at Colonial Courtyard at Clearfield, she initially lived clutter free.  It wasn't until about two months had passed that we noticed her hoarding behavior returning.  As time went on, her suite became more and more cluttered, with various piles of things all over, causing a safety risk.  On the couch and on the floor were huge piles of stuff, such as QVC items still in the wrapper, jewelry boxes unopened, newspapers, and old mail.
Through her behaviors we learned that for her, obsessive shopping and intense sentimental attachment to objects were warning signs of hoarding.   When I asked her about the jewelry she would say my husband always bought me jewelry.   In her mind, she was not hoarding she was simply holding onto things she would need and things that had importance to her.  Hoarding is sometimes triggered by a tragic event, such as a loss of a loved one.  In our resident's case, the loss of her husband triggered the jewelry hoarding as it reminded her of him.  Our team was then able to work with her to learn more about why she kept things, and how to correct the problem.
Empathy over Immediate Action
Think of how many elderly lose a loved one, how they need comfort because of the deep fears and anxiety they have from losing their independence.  Hoarders will hold onto items because they fear their memories will be lost without the evidence of the past.   When trying to help a hoarder take the time they need, and understand that it is not trash to them.  Here are some simple steps to try when working with someone who hoards:
Start small, basic, and in the moment – Perhaps someone's piles obstruct their bathroom and they need to wash up.  Instead of attacking the piles, try asking, " Do you want to take a shower?  Maybe we could start going through the mail in the bathroom to make some space."  By making it about something other than throwing out their belongings, you help break it down in their mind and can ease the process.
Suggest other purposes and meaningful places for things – donating goods can sometimes make parting with things easier as the belongings would still have purpose to someone else.
Bring in outside help – hoarding, as mentioned above, is often a symptom of a greater emotional trouble.  Having the hoarder talk to a therapist to try to get to the root of the trouble can alleviate troubles
Author, Sandy English, is the Director of Sales & Marketing at Colonial Courtyard at Clearfield in beautiful Clearfield, PA.  Sandy assists families and social workers to find the best senior living options for their residents.  For more information about the all new Colonial Courtyard at Clearfield, 814-765-2246