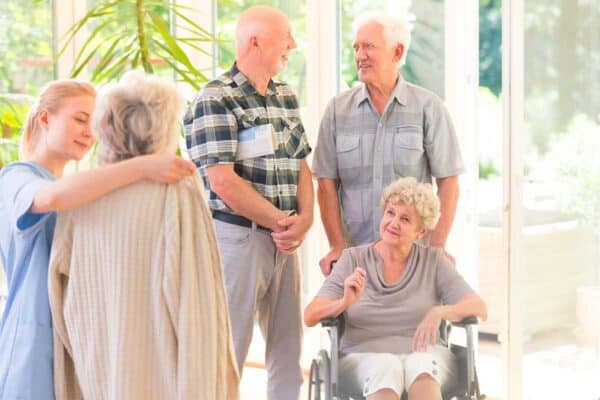 Dictionaries define it as a feeling of security or calm. The thesaurus likens it to joy or contentment. However, because we're all different, peace of mind means something different to each of us.
That's especially true when searching for a senior living community. You want to be sure it provides services and amenities that fit your unique wants and needs. Or if you're looking into senior living for a loved one, you want them to be as happy and safe as possible in their new home.
With so many options out there, making the right choice can be difficult. That's why knowing what peace of mind looks like, feels like, and means to you, can help you find just the right place to provide it.
Consider the following attributes when choosing a senior living community as you begin to focus on the ones that will help define your peace of mind…
Personal Touch
It will take a team to take care and assist you or your loved one throughout each day. You want them to be professional, knowledgeable, and compassionate—experts at what they do while also loving what they do.
Consistent communication is also a must, not only between team members but with residents and their families as well.
Is the staff genuinely warm, kind and compassionate? What training and experience do they have? Do they give consistent personalized attention?
Connection with the Community
A reassuring and comfortable layout facilitates a sense of belonging and pride. You want a place with charm, a place that's welcoming, a place the grandkids will love to visit.
When experiencing a community for the first time, be mindful of how it makes you and your loved one feel. This will be home so it's important that a connection is made with residents, employees and the building itself.
Amenities like beautiful grounds with walking trails, easy-to-navigate hallways and a variety of activity rooms offer opportunities that single-family homes often lack. The most important connection you can make is with the people who will become your neighbors, friends and care providers—and often feel like family.
Is the floor plan easy to follow? Is the decor welcoming? Does it feel like home? What opportunities are there for outdoor recreation and socialization?
Specialized Care
Most senior living residents have healthcare needs that involve specific physical and/or cognitive accommodations—from memory care to assistance with everyday tasks like dressing and bathing.
Whether making sure medicine is taken on time or that residents are getting the most out of their current abilities and skills, the place you choose has to specialize in exactly what you or your loved one needs.
Does the facility fit your or your loved one's unique healthcare needs? Are they constantly assessing needs and adapting accordingly? Is there a written care plan for each resident?
A Safe Place
Safety is always a major concern for incoming residents and their families. Some residents come straight from the hospital. Some come from being in the same house for decades. So the move can really strike at their sense of security.
You'll want a community that proactively implements safety protocols to make it safer for residents, their families and team members. And if a problem arises, night or day, you need to know that a caregiver is just a call away.
Things to consider: Are the grounds secure and help on-hand 24/7? What is the procedure for visitors and for emergency events?
Quality Culinary
Appealing food choices and thoughtfully prepared meals are very important to most seniors, especially those with special nutritional needs. You'll want to make sure there are quality dining options and meal planning to take any worry over food selection out of your hands.
Do their meals meet your dietary needs and preferences? Is there a chef on staff?
Activities for the Mind, Body & Soul
Staying active and socializing are essential to well-being and happiness as we age. Look for a calendar full of fun and stimulating social, religious, recreational and educational activities that you or your loved one will enjoy.
From gardening and dancing to exercising and arts and crafts, an active lifestyle can do wonders for the mind, body and soul.
Do they offer a variety of activities? Can the staff explain the social, physical, and mental benefits of each? Do residents socialize and feel comfortable with each other?
Once you define what peace of mind means to you, you can start to explore all your options and find the perfect fit for you or your loved one.
At IntegraCare, Peace of Mind is a Top Priority
With 13 modern and beautiful communities in Pennsylvania, Maryland and Virginia offering a wide range of care options and amenities, we at IntegraCare provide peace of mind while going above and beyond to make sure our residents are happy, secure and living their best lives
possible. Explore our communities and all they have to offer by visiting IntegraCare.com.