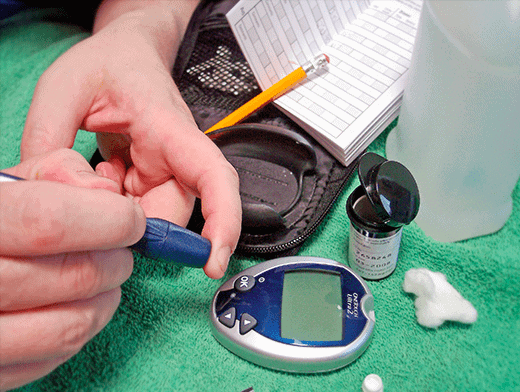 Each day we work with families who have loved ones struggling at home managing their diabetes.  The constant stress of watching your diet, maintaining sugar levels, and ensuring proper medication is being distributed can be very overwhelming.  For most elderly, getting assistance managing your diabetes can be life changing.
Care Plan for Older Adults with Diabetes
Receiving regular check-ups is important for everyone, but it is especially important for older adults with diabetes as medications, diet, weight gain, and other details can effect how your body processes sugars.  Regular check-ups can help monitor your body's glucose levels and determine the proper treatment plan for your individual needs.  The following are important steps in monitoring the health of an older adult with a diabetes diagnosis:
• Schedule regular visits to your doctor to monitor blood sugar levels and adjust medication and diet as needed.
• Examine feet on a regular basis for injury.
• Educate yourself and your elder loved one on what to expect and look for so that they can also be their own advocate.
• Encourage open communication with your elder loved one so that they will feel comfortable talking to you if they notice any symptoms, or just don't feel right.
• Monitor daily blood sugar levels with at home kits.
• Accept support – if the task of monitoring you or your loved one's health is daunting, join a diabetes support group.
• Exercise is important for many reasons, so start moving at at a level your loved one can reasonably participate in.
• Eat a balanced, low-carb healthy diet.  (Remember, carbohydrates are sugars!)
How a Move Can Make the Difference
For families like these, moving into a community setting that offers assistance can often be the change they needed to ensure peace of mind and allow their loved one's focus to shift from simple healthcare management, back to enjoying life.
A personal care home, or assisted living can help with many important tasks such as:
• Preparing diabetic friendly meals
• Daily monitoring of blood sugar levels
• Assistance with medications
• Encouragement and counseling
With this assistance seniors are able to enjoy their "golden years" and focus more on things they enjoy.  Our residents now attend social outings and activities without the fear of their diabetic symptoms getting in the way.  Families often state that moving into a personal care home was the best decision they could have made.   They no longer worry about their diabetic loved one being home alone and possibly not managing their blood sugar levels with an unhealthy diet or missed medications.
When asking a resident about her experiences moving to Magnolias, she said, "living at Magnolias has given me and my family much relief.  I like that I have freedom from worry over how much insulin I should take and when I should take it; the staff help me with that and I feel safe knowing they are here providing that service.  I can focus on enjoying life and doing activities with the friends I have made here."   She also stated that though the decision to move here after a diabetic related fall was not hers, she is glad her three children took the time to research and find the right place for her to live.   "Peace of mind is priceless, and I have that living here at the Magnolias."