129-Apartment Community to Include Independent Living, Assisted Living, Memory Care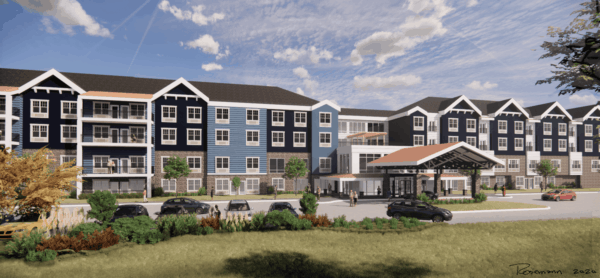 YORK, Pa. – A  new senior living community is coming to York through a joint venture of IntegraCare and Avenue Development.
Ground-breaking on the 129-unit project is scheduled for summer 2021. The 16.5-acre site is located south of downtown York near Queen Street. The community will include Independent Living, Assisted Living and Memory Care units. It represents a $30+ million investment in the York community.
"Together, Avenue and IntegraCare are pioneering a new building design for senior living housing that prioritizes well-being that is 'safer than home alone,'" said Avenue Development Principal Laurie Schultz.
Avenue Development, headquartered in Indianapolis, is a full-service real estate development and advisory group focused on innovative solutions for wellness-centered healthcare and senior living properties. IntegraCare Corporation, based near Pittsburgh, operates 13 senior living communities in Pennsylvania, Maryland and Virginia. Its goal in its communities is to improve the lives of its team members, residents, and their families.
"York has a great tradition of senior housing but no new community has been built in the last 15 years. During that time, a lot has been learned, design-wise, about how to create a place where seniors live vibrant lives. York's seniors deserve the state-of-the-art. Avenue and IntegraCare are proud to bring it to them," said IntegraCare Chief Executive Officer Larry Rouvelas.
The four-story, 120,000-square-foot community will feature one- and two-bedroom units in Independent Living, Assisted Living and Memory Care. Physical fitness and therapy areas will be available as well as a theater, hair salon, library, card room and a bistro. Some apartments will include outdoor terraces or balconies. The community also incorporates equipment, technology and design features with a focus on infection prevention while maintaining the socialization at the heart of IntegraCare's communities.
"For 20 years, IntegraCare has served Pennsylvania's seniors with continuous innovation in wellness, hospitality, and safety. We look forward to the next 20 years bringing it to York's seniors." Rouvelas said.
For more information, contact Brandon Smeltzer, IntegraCare VP of Sales and Marketing, at bsmeltzer@integracare.com or 724.940.5544, Ext. 114.