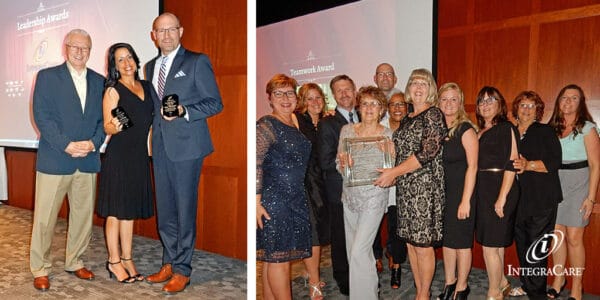 'Leadership on Twelve O'Clock High'
IntegraCare conference spotlights 'Superstar' team members across 10 senior living communities
     ERIE, Pa. – IntegraCare honored top leaders throughout 10 senior living communities during the "Leadership on Twelve O'Clock High" event held at the Ambassador Conference Center in Erie on June 14-16.
A total of 97 management and a select group of "Superstar" team members from IntegraCare's communities in Pennsylvania, Maryland and Virginia participated in the conference.
Featured keynote speaker Harvey Goldberg discussed leadership qualities and best practices in communication through analysis of the classic 1949 motion picture "Twelve O'Clock High."
IntegraCare teams had an opportunity to visit the Erie Maritime Museum, where the members learned about the Battle of Lake Erie and how teamwork played such a significant role as nine vessels of the United States Navy captured six vessels of the British Royal Navy during the War of 1812.
IntegraCare's Red Carpet Gala and Awards Ceremony capped the event as 13 winners in leadership award categories were announced.
IntegraCare CEO Richard Irwin presented the CEO Award to three recipients recognized for contributions, tenacity and the resilient pursuit of personal and organizational excellence. Those award winners included:
Tracey Spallone, LifeStories Memory Care Director, Newhaven Court at Lindwood. "Tracey leads the superior LifeStories memory Care program within IntegraCare and sees herself as a leader and part of the sales process," Irwin said. "She knows the life story of each of her residents inside and out, and she displays a tremendous attitude."
Darlene Young, Director of Resident Care, Candle Light Cove. "Darlene was presented due to her unmatched focus on the mission," Irwin said. "In the face of much adversity due to staffing challenges and the growth of the community, she never lost sight of the goal. Darlene displays a calm and methodical approach even when the pressure is on. She is respected by her peers and subordinates and conducts herself with professionalism."
Sarah Spardy, Strategic Projects Analyst and Financial Reporting Manager, IntegraCare. "Sarah demonstrated superior professional growth throughout 2016-17 and has improved many financial tools and templates," Irwin said. "She has worked tirelessly on many critical financial efforts, including new projects in Reston, Virginia, and Annapolis, Maryland."
Additional awards presented throughout the event included:
The Henry Posner Jr Award in recognition of dedication, commitment, and pioneering spirit in the face of great adversity went to Lori Grant, Executive Director, Newhaven Court at Lindwood. "Lori was awarded for many reasons, but especially due to her perseverance and leadership through disaster when a winter flood struck her building," Irwin said.
The Continuous Quality Improvement Award for a commitment to making IntegraCare communities a great place to work and a great place to live as well as for achievements in CQI scoring went to Colonial Courtyard at Clearfield. "In its first year of operation, Colonial Courtyard at Clearfield earned this award for posting a score of 80 percent in Assisted Living and 77 percent in LifeStories Memory Care as well as for demonstrating a commitment to the culture and use of tools and processes," Irwin said.
The Leadership Award was presented to Tressia Day, Executive Director, Magnolias of Chambersburg. "Tressia has worked wherever the mission demanded," Irwin said. "She served as a regional Healthcare Compliance Coordinator after previously serving as Director of Resident Care at Magnolias of Chambersburg, where she's ultimately been able to return and serve as their Executive Director. In between these shifts, she served as interim Executive Director at Magnolias of Lancaster and was engaged in establishing new and healthy routines after the Lancaster team lost their long-term ED.  She consistently leads with poise and resolve and is an inspiration to every team she serves."
The Teamwork Award went to Newhaven Court at Clearview. "This team demonstrates an alignment of interests and values in everything they do," Irwin said. "There is a common trust, respect, commitment and follow-through by each member of the team, and they celebrate each individual's success as part of a team."
The Occupancy Award in recognition for achievements in occupancy for the previous year was awarded to Colonial Courtyard at Bedford.
The 10-in-10 Award in recognition of achievements in healthy living and weight loss during IntegraCare's 10-in-10 Challenge was awarded to Newhaven Court at Lindwood, which achieved back-to-back victories in 2016 and 2017 during the challenge.
The Best of the Best Award, which highlights the most impressive initiatives taken at the community level to make it a great place to work and a great place to live, included submissions of initiatives from each community. The Home Office team voted to narrow the category to a Top-4.  From there, a live vote was conducted at the conference across all attendees, and Candle Light Cove was named the winner. "Candle Light Cove was recognized for its implementation plan across all teams for 'Absence,' a play about dementia. The community leveraged the play as an educational tool and opportunity to raise funds for the Alzheimer's Association.
The Safety Award in recognition of excellence in workplace safety went to Magnolias of Chambersburg.
The Executive Director of the Year award was presented to Lori Grant, Newhaven Court at Lindwood. Gary Renwick, Newhaven Court at Clearview, had held the honor in 2016.
For more information, contact Beth Garrard, Marketing Associate and Electronic Media Manager, IntegraCare, at bgarrard@integracare.com or 724.940.5544, Ext. 113.