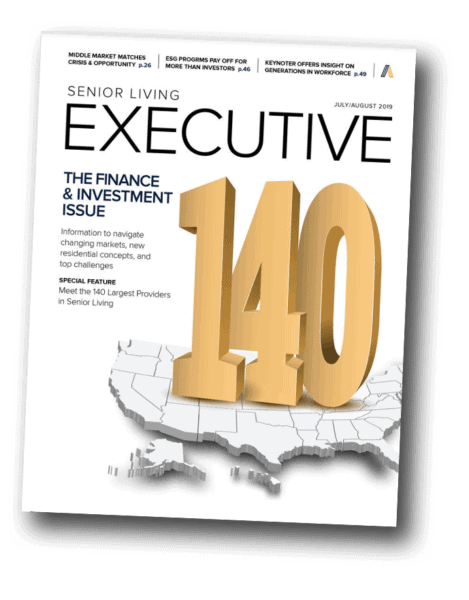 PITTSBURGH, Pa. – IntegraCare is included in the Senior Living Executive Magazine's Finance & Investment Issue ranking of the 140 largest providers.
IntegraCare ranked 120th on the list with 765 total senior living units. The ranking was based on IntegraCare's 536 assisted living units, 73 independent living units and 156 memory care units in 11 U.S. properties.
"The IntegraCare team is honored to be on this list of largest senior living providers. This is a testament to the commitment of our employees and management team, and also the loyalty and support of our residents and their families," said Richard Irwin, IntegraCare CEO and co-founder.
"We have several other projects in development, including our Bay Village Assisted Living and Memory Care community in Annapolis, Maryland," Irwin continued. "We are excited about the future."
Senior Living Executive Magazine's Finance & Investment Issue features Argentum's annual, data-packed "largest providers list," which grew to 140 and included a cumulative 642,795 units. "The most extensive report in the 20 years we've been publishing," the magazine noted.
Among the top-125, which was the number of providers ranked in 2018, there was a growth of 5.4 percent in the number of units.
"IntegraCare continues to expand its footprint throughout Pennsylvania, Maryland and Virginia," said Putzier, IntegraCare President and co-founder. "We have many projects in development. We are in a position to potentially elevate our status in the rankings next year. It brings us a great sense of pride to have grown so much over the years because of the dedicated and talented people who have worked and continue to work at IntegraCare communities."
For more information, contact Brandon Smeltzer, Executive Director of Sales and Marketing, at bsmeltzer@integracare.com or 724.940.5544, Ext. 114.