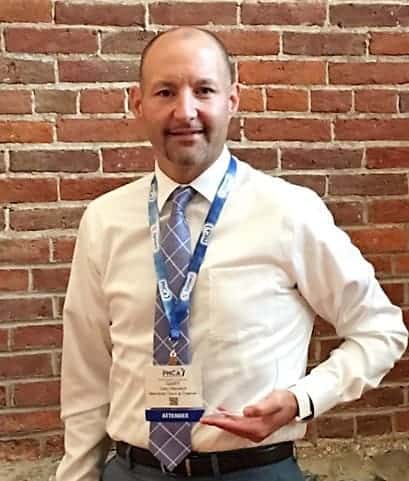 IntegraCare's Gary Renwick earns PHCA 2016 Hero Award
'Executive Director of the Year' honor for Newhaven Court at Clearview administrator
BUTLER, Pa. – Sept. 29, 2016 – Gary Renwick followed a lengthy and rewarding path to become a Pennsylvania Health Care Association (PHCA) 2016 Hero Award winner as Assisted Living/Personal Care Executive Director of the Year.
Renwick, executive director at Newhaven Court at Clearview in Butler, had his start with the IntegraCare-operated senior living community when he was a college student at nearby Slippery Rock University.
Back in 1999, Renwick served as a resident care assistant who frequently shuttled residents to the shopping center or on other community outings in the Newhaven Court at Clearview van. Seventeen years later, after holding multiple roles in the IntegraCare family, Renwick received the prestigious Hero Award during the PHCA's 65th annual convention on September 27 at the Lancaster County Convention Center.
"IntegraCare has been cultivating great leaders for a long time," said Brandon Smeltzer, IntegraCare VP of Sales and Marketing, while attending the three-day convention. "It's great to see one of our team members be recognized for his accomplishments. Gary is a disciplined, kind and caring leader who has taken his community to the next level."
Renwick was among seven of Pennsylvania's best health care professionals honored "for their extraordinary contributions toward the care of the state's seniors." The Hero Award winners work in long-term and post-acute care centers throughout the state — including skilled nursing facilities, personal care homes and assisted living residences.
More than 100 nominations were submitted by facility administrators and staff, and winners were selected by the PHCA awards committee.
"Every day in Pennsylvania, more than 81,000 frail, elderly and disabled residents who need around-the-clock support for clinically complex medical conditions receive high quality, compassionate care from many of the finest health care professionals in the nation," said PHCA CEO W. Russell McDade in a statement after the awards were announced. "Our seven Hero Award winners represent some of the very best in long-term care, and we are honored to recognize them for the outstanding services they provide to residents and their families."
A Butler native, Renwick became executive director at Newhaven Court at Clearview in August 2014. The 38-year-old certainly had been a familiar face at IntegraCare, which operates 12 senior living communities in Pennsylvania and Maryland.
"I've done pretty much every role possible and took pride and enjoyment in being part of the IntegraCare team," Renwick said. "I started at the bottom as an aide, driving the bus, and worked my way up. I feel I can do pretty much every position."
Renwick proved as much. After college, he moved into more comprehensive roles, serving as the activities director and, later, the business office manager, at Newhaven Court at Clearview.
His efficient work in the business office led to the broader role of regional business office manager at IntegraCare.
Renwick then became an assistant executive director at The Residence at Willow Lane before landing his first role as an executive director at IntegraCare's Pines of Mount Lebanon in 2013. Two years ago, he found his way back to his home community in Butler.
"Gary's story shows how an individual can progress in our organization and advance to the highest level," Walker said. "It truly is inspirational and an example for others to follow. From driving the van to executive director, Gary approached each job with dedication and commitment. This award only is fitting."
Renwick has made an impact at Clearview, where resident and team members' satisfaction ratings have shown remarkable improvement. "I believe that is the big reason I was chosen for this honor," he said.
"It's a huge honor, but I do what I do as part of my job," Renwick said. "This is what I believe I was born to do. I enjoy working with seniors. The opportunity IntegraCare has given me has made all the difference. I am grateful for that opportunity and this special honor from the PHCA."
The PHCA, a statewide advocacy organization for Pennsylvania's most vulnerable older residents and their providers of care, produced videos to spotlight all seven Hero Award winners.