Attendance-based Contest Continues to Evolve in its Third Year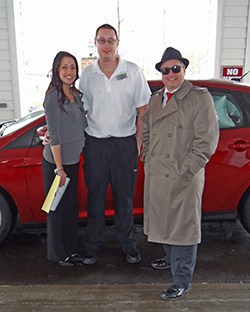 PITTSBURGH – IntegraCare is in the third year of its innovative Continued Attendance Rewards (CAR) Program, and previous new-car winners have found the contest to be a life-changing event.
"I was very excited. It was unbelievable. It has impacted my life," said Sharon Ebdy, a Newhaven Court at Lindwood employee who won a new Ford Focus in the inaugural 2016 contest. "It came at a time when I really needed it. My other vehicle broke down two days prior to me winning the vehicle. It was like God sent a message.
"I could not believe the reception I received here," she continued. "People lined up to congratulate me. I was shocked by the number of residents who knew me and knew I won the car. I still have the vehicle."
This year's CAR Program winner will be announced on Jan. 30 via IntegraCare's Facebook page. Employees of all 10 IntegraCare senior living communities are eligible to win the new car. Additionally, three grand prize winners at each community will receive prizes such as a week's vacation, a television or laptop.
"This is a reward program for all hourly, non-management team members based on perfect attendance each payroll period," said Brandon Smeltzer, Executive Director of Sales and Marketing for IntegraCare, which operates senior living communities in Pennsylvania and Maryland. "The CAR Program has generated excitement throughout the year and boosts morale and attendance throughout our communities. The announcement is one of the most anticipated days of the year for our entire team."
The CAR Program has made an impact on multiple fronts:
The number of IntegraCare employees with perfect attendance increased 46 percent in 2017 compared to the previous year.
Turnover in the first 90 days of the year, a critical period that factors significantly into employee retention, was down by almost 10 percent in 2017 from 2016.
IntegraCare's overall annual turnover decreased 12 percent in 2017 from the previous year.
Seven of 10 IntegraCare communities saw a drop in overall turnover percentage in 2017.
The largest drop in overall turnover was 77 percent in the community where the CAR Program winner worked last year.
Six of 10 IntegraCare communities saw employee satisfaction improve or remain steady from 2016 to 2017.
During the first year of the CAR Program, eight new vehicles were presented in January 2016 to winners at the eight IntegraCare communities participating in the contest. Last year, one overall winner received a new car, though all 10 IntegraCare communities presented three grand prizes.
"It's an unbelievable experience," said Newhaven Court at Lindwood's Ryan Hershey, who won the new Ford Focus in 2017. "I was shocked. I was very excited."
Hershey has had perfect attendance during his eight years at IntegraCare.
Employees at 10 IntegraCare communities received vouchers based on perfect attendance during each pay period in 2017 and were entered into the CAR Program contest.
Those IntegraCare senior living communities participating in the contest were:
Candle Light Cove (Easton, Maryland)
Colonial Courtyard at Bedford
Colonial Courtyard at Clearfield
Colonial Courtyard at Tyrone
Magnolias of Chambersburg
Magnolias of Lancaster
Newhaven Court at Clearview (Butler)
Newhaven Court at Lindwood (Greensburg)
The Pines of Mount Lebanon
The Woods at Cedar Run (Camp Hill).
"We respect our employees and consider each one a key member of our team," said Richard Irwin, CEO of IntegraCare. "In turn, they improve the quality of life for residents and their families. We ask our residents and their family members to encourage our team and help make our communities better places to work, which in turn makes it a better place to live. What better way for us to set an example than to provide an incentive contest in which our team members have a chance to win a new car?"
Three grand prizes will be presented at each community. Those include:
First prize, a 55-inch television, one-year subscription to Netflix, and one week of paid vacation.
Second prize, a laptop computer and printer, Microsoft Office, and one week of paid vacation.
Third prize, an i-Pad, Amazon Prime membership, and one week of paid vacation.
"The CAR Program enabled us to put an impactful spotlight on our many dedicated team members who work so hard to improve the lives of our residents," said Putzier, IntegraCare president and COO. "The incentive program made an 'everyday' routine such as coming to work just a bit more exciting. The program generated interest and a buzz."
The CAR Program also enabled one previous winner to "pay it forward." The Woods at Cedar Run receptionist Tamara Wehler won a new Ford Focus in 2016. Then, Wehler chose to better the life of an acquaintance in need, and that person in turn assisted a local church.
Ironically, Wehler and her husband already owned a 2005 Ford Focus. "My first thought was, 'Good, I can sell our car.' But it didn't feel right," said Wehler, who retired after 30 years as a florist and has been at The Woods for nearly five years.
She gave away her used car to an acquaintance in need of an upgrade. The cycle of giving didn't stop there, though.
"The person I gave the car to needed a car because they do a lot of traveling," Wehler said. "In turn, they gave their car to the church."
The CAR Program will continue to impact lives as the tradition adds another chapter while handing out a set of new keys in 2018.
For more information, contact Brandon Smeltzer, IntegraCare Director of Sales and Marketing, at bsmeltzer@integracare.com or 724.940.5544, Ext. 114.