Woods at Cedar Run 'team effort' earns high marks from Pennsylvania Department of Human Services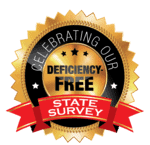 CAMP HILL, Pa. – The Woods at Cedar Run received a deficiency-free report after the Pennsylvania Department of Human Services annual inspection of the senior living community.
"Our management team and all team members are committed to working hard to assure that we provide our residents with quality care and a rewarding lifestyle," said Courtney Bolinsky, Executive Director of The Woods at Cedar Run, one of 10 senior living communities in Pennsylvania and Maryland operated by Pittsburgh-based IntegraCare.
"That dedication and commitment was evident in a Pennsylvania DHS report with zero violations," Bolinsky said. "A perfect survey is extremely difficult to achieve due to the depth of care and matching depth of detail that is needed to run a community, and we are proud of achieving such status and committed to maintaining such a level of excellence."
According to its official website, "The Department of Human Services works with facilities across the state who help us serve Pennsylvanians of all ages who require day-to-day care and support. To ensure the health and safety of residents and clients that these facilities serve, the department is responsible for licensing and inspecting each organization."
The DHS website goes on to state, "Inspections are conducted using health and safety regulations that are designed to fit the type of client that each facility serves."
The Woods at Cedar Run received its results on Oct. 27.
"This survey result is truly a tribute to the hard work of all of our team members," said Brandon Smeltzer, IntegraCare VP of Sales and Marketing. "We strive to achieve this type of result in each of our communities. This is a true example of how IntegraCare's systems and tools can lead us to a great result."
For more information, contact Courtney Bolinsky, Executive Director, The Woods at Cedar Run, at cbolinsky@integracare.com or 717.737.3373.