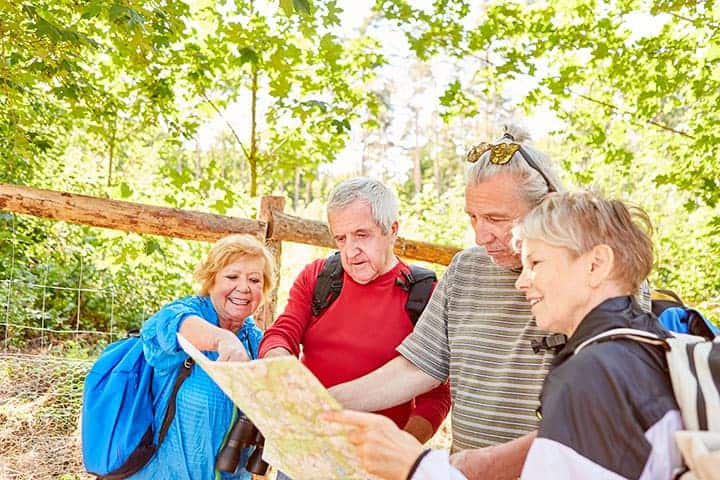 Research after research shows how important it is to stay active no matter your age. That's especially true for seniors.
Staying active doesn't only mean walking or working out. For overall well-being, seniors need to participate in a variety of purposeful activities that benefit the mind, body AND soul.
What activities a senior living community offers then becomes a top priority when choosing one. Here are just some activities to look for…
Stimulating the Mind
The brain is like a muscle, in that the more you use it, the stronger it becomes. Unlike muscles, the brain can't get stronger by lifting weights. It needs a consistent regimen of meaningful activities that stimulate the mind.
According to the National Institute of Aging, "Activities such as music, theater, dance, and creative writing have shown promise for improving quality of life and well-being in older adults, from better memory and self-esteem to reduced stress and increased social interaction." Mind-stimulating activities have also been shown to reduce loneliness and depression, and increase dexterity.
Thankfully, engaging the mind doesn't have to be hard. An afternoon of storytelling and singing songs along with an old fashioned juke box not only brings happiness, but it can also help improve recall.
Mind-stimulating activities include:
Reading a book in the library
Watching a favorite movie or a live performance
Cheering on a favorite sports teams
Enjoying a stimulating lecture
Arts and crafts
Writing
Playing games like chess, checkers or bingo
Crosswords & Puzzles
Play an instrument
Listening to music
Strengthening the Body
According to a BioMed Research International article, "physical activity is a protective factor for diseases such as cardiovascular disease, stroke, diabetes, and some types of cancer."
It can also help maintain motor skills, build self-confidence and delay the onset of dementia. However, "despite these health benefits, physical activity levels amongst older adults remain below the recommended 150 min/week."
Physical activity can be as simple as chair yoga which helps elongate and strengthen muscles which in turn help with balance and movement.
Body strengthening activities include:
Walking a trail
Taking fitness and wellness classes
Strength and cardio training
Using a spa
Dancing
Yoga
Gardening
Visiting local shops
Playing games like pool, bag toss and horseshoes
Neglecting the mind and body only leads to bad things, but neglecting the "soul" and emotional health can be just as costly.
We often get contentment from our interaction with others, whether sharing stories or a good laugh. Socializing and developing close relationships give us a sense of belonging and purpose, love and companionship that's good for the soul.
Science Daily adds that "studies have shown that close social ties, like family and close friends, can be beneficial to older adults by providing a buffer against stress and improving emotional well-being."
Other activities, such as spiritual and meditative ones, help bring peace and calmness to the soul. That's why being able to practice one's faith alone or with others in a safe and comfortable environment is essential.
One research-backed article states, "Spirituality can be of considerable importance for the older person's physical wellness. At the same time, it can impact significantly on their quality of life."
Soul-nourishing activities include:
Attending religious services
Conversing with friends or family at a bar or in a family room
Playing games with friends
Listening to the birds in an aviary
Sharing a family recipe with neighbors in the kitchen
Gardening
Taking a virtual vacation
Whether you're choosing a senior community for you or a loved one, it's important you find one where they understand that participation in purposeful activities leads to healthier, happier seniors.
IntegraCare Understands the Life-Changing Benefits of Meaningful Activities
That's why we offer a full, fun-filled calendar of social, religious, recreational and educational programs for our residents. Our purposeful programs are specifically designed to support whatever physical or cognitive challenges residents may have, so everyone can benefit. For more details, explore our communities at IntegraCare.com.