Newhaven Court at Lindwood is blessed to have an abundance of love throughout our building, including 7 lovely couples who reside with us.  To celebrate their many years of love, we're highlighting each couple as we lead up to Valentines Day.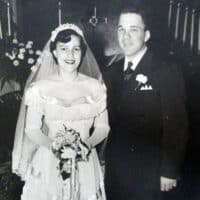 Helen and Albert "Bud" Barnett
Helen and Bud met at a square dance. Bud remembers how beautiful Helen was and her big smile, Helen says she liked everything about Bud right off the bat! Bud says his favorite memory was marrying Helen and every day that followed afterward. After 66 years of marriage the couple have this as their advice, "You must fight, always make up, but fight. If something bothers you, tell the other person, there is no right or wrong you just agree to fix it and move forward!"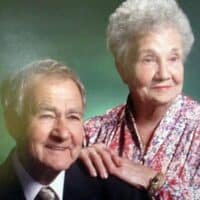 John and Joan Richards
John and Joan are new to our Life Stories Memory Care neighborhood at Newhaven Court at Lindwood. John met Joan at the gas station he worked at. She really liked his car which was a '57 Buick convertible. They went for a drive and afterwards  John asked what she would like to do , Joan told him she would like to marry him! John said it was easy to fall in love with Joan as she was so kind and loving. After 58 years of marriage, their advice is, " You do it all "together." John added, "You aren't the boss, she isn't the boss, you are both the boss and in this together."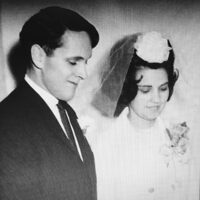 Connie and Thomas Elders
Connie and Thomas met at an Ice Cream shop next to the Palace Theater. Connie liked Tom's crew cut and how tall he was. Thomas remembers how beautiful he thought his wife was and that she was chewing on a lollipop. When asked what has allowed them to last 53 years happily married the couple replied that you must be able to rely on each other for any and everything. "We took our vows very seriously, that is not something these newer generations seem to understand is necessary."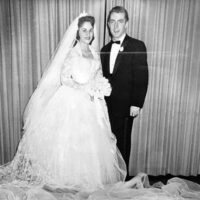 Joseph and Theresa Travers
Joseph and Theresa met at Springfield Gardens in Long Island. Joe noticed Theresa first, she was a breathtaking red headed Italian and all the guys were after her. His friend told him not to talk to her because she wouldn't give him the time of the day. Theresa did like him; she said her favorite things about him were, he was good-looking, clean cut and a nice guy. The couple says they have always liked the same things and have a mutual adoration for each other. After 63 years, they are still happy in love; Joe said if he could he would re-live every moment again! Their advice, " Find someone who make you wake up looking forward to every day."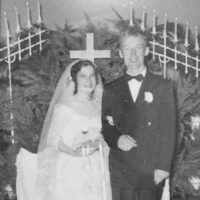 Jim and Jean Bowers 
Jim and Jean belonged to the same 4H club. Jim liked that Jean was good at what she did for the club and that she took such good care of all of the animals! Jean remembers how nice and friendly Jim always was to her! Jim found a new appreciation for his wife after their roles swapped and he was assuming a caregiver position for her. "She always took care of me and I never fully understood or appreciated it until it was my turn to care for her, she was/is a great wife…..After 66 years married the couple agrees,"We truly love another, for everything we are. It's easy to make a marriage last if you find your true love, you get one."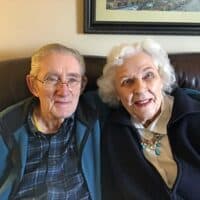 Patricia and Frank Jackson
Patricia and Frank have been residents at Newhaven Court for many years now. They met while working at the Henry Printing Company together. Pat recalls what a great sense of humor Frank had and his great hair! Frank's mother would pack him lunch every day and every day Frank offered to share his lunch with his future wife! After 65 years of marriage Pat and Frank's advice is to be one anothers biggest supporter! Whatever it is your spouse should be able to lean on you first for support!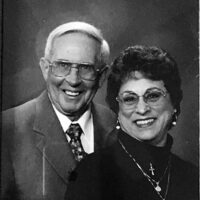 Sandy and Ray Beck
Sandy and Ray met while they both worked at Westinghouse. Ray fell in love with Sandy's smile and Sandy said she couldn't pick one thing, it was everything about Ray. As we were interviewing Ray and Sandy for this story, Ray looked over at Sandy who was just staring at him with a huge smile as he talked and said, "See how she still smiles at me with that big beautiful smile, how could I not love her." Sandy said she still after all these years just loves everything about Ray. Their advice after 45 years of marriage, "Stay true to your genuine self, you should never have to change who you are as a person for someone to love you."