Burpees at Bert's Fitness Challenge supports Lancaster Chapter of Alzheimer's Association
LANCASTER, PA. – Magnolias of Lancaster has held numerous fundraisers to support the Lancaster Chapter of the Alzheimer's Association over the years. This time, the senior living community is stepping up its game, both literally and physically.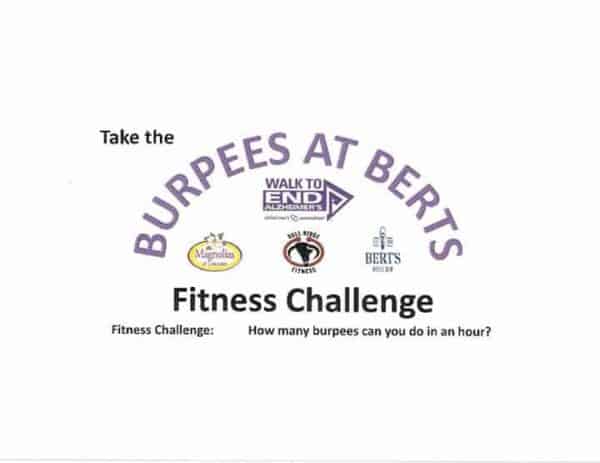 The Burpees at Bert's Fitness Challenge will raise money as teams see how many "Burpees" they can perform in one hour on Aug. 26 at Bert's Bottle Shop, 369 Comet Drive in Lancaster. A burpee is also known as a squat thrust, which is a full body, four-step exercise traditionally used in strength training and aerobic exercises.
"We were looking to do something different as a fund-raiser," said Robert Garvey, Director of Sales and Marketing at Magnolias of Lancaster. "We've had the time-tested sub sales and yard sales, and all the so-called normal fundraisers. We wanted to do something fun and exciting.  This might be considered to be a bit unusual or quirky. But we're sure it is going to be a fun way to raise funds for a great cause."
The Fitness Challenge will be held from 8 to 9:30 a.m. The $15 registration fee will raise money for the upcoming Walk to End Alzheimer's, which supports the Lancaster Chapter of the Alzheimer's Association.
Follow along on Facebook to stay up to date on this and other events.
"Nearly everyone throughout our Lancaster community knows at least one person who has been affected by dementia-related diseases," Garvey said. "Whether that person is a family member, close friend or other loved one, dementia takes its toll on everyone.
"This Fitness Challenge is a fun and unique way to come together as a community and celebrate all the good things that are happening regarding Alzheimer's research and progress in fighting this disease," he said.
The four-count Burpee begins with the participant in a standing position.
Drop into a squat position with hands on the ground (count 1).
Kick the feet back into a plank position while keeping the arms extended (count 2).
Return the feet to the squat position (count 3).
Stand up from the squat position (count 4).
Garvey noted that representatives of Bull Ridge Fitness will provide tips and encourage participants in the event as they "strive to hit our MBP (Maximum Burpee Potential)."
Participants of all ages, abilities and fitness levels are welcome. They should bring their own mat. If individuals are not part of a team, they will be placed on a team.
For more information, contact Robert Garvey, Director of Sales and Marketing, Magnolias of Lancaster, at rgarvey@integracare.com or 717.560.1100