Senior living community's fully-vaccinated residents, family members share moments
CHAMBERSBURG, Pa. – Bob and Rosanne Zajko hadn't shared an affectionate embrace since July, another one of the many sacrifices made throughout the COVID-19 pandemic.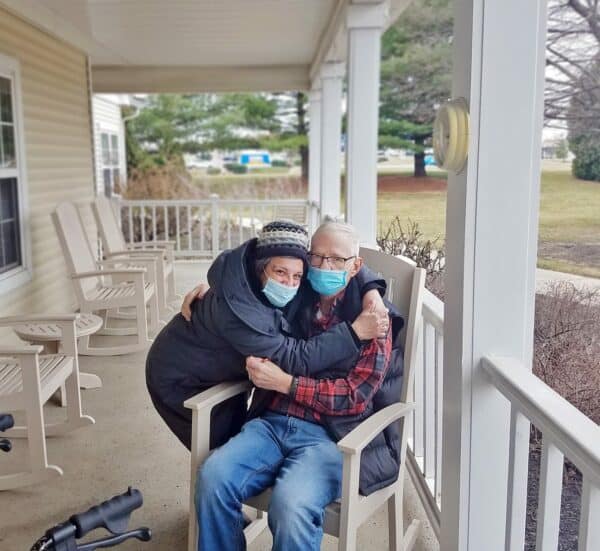 Bob Zajko, a 72-year-old resident of Magnolias of Chambersburg senior living community, received a memorable surprise when his wife Rosanne made a March 17 visit. The couple, married 42 years, was part of Magnolias of Chambersburg's "First Hugs" celebration.
Magnolias of Chambersburg, operated by Pittsburgh-based IntegraCare, has had nearly 100% of its community vaccinated to prevent the spread of COVID-19. The community is allowing fully-vaccinated couples and family to share in hugs during social visits.
In the early months of the global pandemic, state and national restrictions and guidelines had prevented visits or other interactions that once had been taken for granted in senior communities throughout the country. IntegraCare communities introduced "conversation stations" that permitted families to visit residents who were situated behind a plexiglass window. Virtual hugs and other social media were used to communicate throughout the past year.
While the community remains diligent in protecting against COVID-19, signs of progress continue to emerge since IntegraCare residents and team members began receiving vaccinations.
"Bob's wife, Rosanne, arrived for her visit and was pleasantly surprised when we explained that IntegraCare now is allowing hugs for fully-vaccinated residents," said Bethany Watts, Community Relations Director at Magnolias of Chambersburg. "Rosanne said it's been eight months since they shared a hug, and she said it was such a good day. Bob really enjoys going on car rides with his wife, and they both cannot wait until they are able to take those trips again very soon."
Similarly, resident John Schrock recently was greeted by his daughter Terry Ball, who was one of the first visitors in her father's apartment since the outset of the pandemic. The father and daughter shared in a memorable hug.
"We were able to capture their embrace with a photo as Magnolias of Chambersburg's first hug upon lifted restrictions," Watts said. "Terry also was able to help John set up some things in his apartment while spending some quality time with her father."
Magnolias of Chambersburg officially reopened the senior community to visitors on Monday, March 22.
For more information, contact Bethany Watts, Community Relations Director, Magnolias of Chambersburg, at bwatts@integracare.com or 717.264.6000.