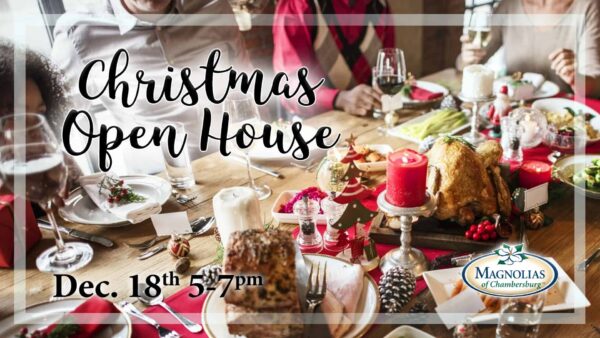 Senior living community will provide entertainment; opportunity to meet team
CHAMBERSBURG, Pa. – Magnolias of Chambersburg will hold its annual "Christmas Open House" event on Tuesday, Dec. 18.
The open house will be held from 5 to 7 p.m. at the senior living and memory care community located at 745 Norland Avenue in Chambersburg.
"The Christmas Open House provides our team and managers at Magnolias of Chambersburg to showcase our community and the type of care we provide on a daily basis," said Tressia Day, Executive Director at Magnolias of Chambersburg. "We also will celebrate the holiday season."
Refreshments will be served and entertainment will be provided by Tresa Day, a musician with a similar name as the executive director.
"She spells her first name differently than our executive director," said Melissa Buksa, LifeStyles Coordinator at Magnolias of Chambersburg. "She's a local guitarist who plays a lot of folk and contemporary music. She's very popular and everybody loves her. Actually, she played for our resident Irene Rebok's 107th birthday in June. She'll be playing the sounds of the season."
Visitors will be offered tours of the community, which includes 25 apartments for residents.
"This will be a chance for people to meet all of the managers," Buksa said. "They will have a chance to see our very tall Christmas tree and they can meet our house dog Casey. He'll be wearing his Christmas sweater."
Casey is the popular 3-year-old Terrier mix. The house dog is an important part of the community.
"Our maintenance man found him as a stray. We went to lengths to see if we could find his owner," Buksa said. "We couldn't find the owner. Casey has been a Godsend. Casey will be a part of our Christmas Open House."
For more information, contact Melissa Buksa, LifeStyles Coordinator, at mbuksa@integracare.com or 717.264.6000.