Community gardens provide source of food, therapeutic results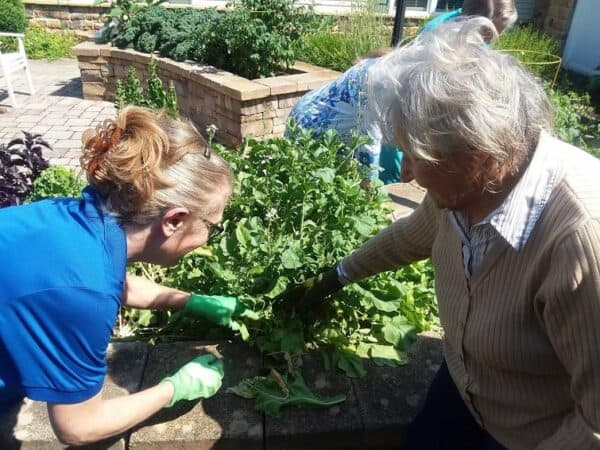 LANCASTER, Pa. – When Executive Director Julie Seifried and her team at Magnolias of Lancaster encouraged residents to participate in a community garden project, they weren't sure how the seniors would respond.
A few months later, Seifried is ecstatic about how the residents have displayed 'green thumbs' while producing a harvest of vegetables that has provided plenty of salads throughout the summer.
"The gardens have been a huge success," Seifried said. "The garden grows in every direction and from every piece of soil that we have. Many of our residents were actively involved in providing for their families through gardening years ago, so this brings back wonderful memories."
Seifried said the garden project serves a therapeutic role as well as providing tasty vegetables such as lettuce, tomatoes, kale, hot peppers, sweet peppers, cucumbers, eggplant, cantaloupe, squash and zucchini.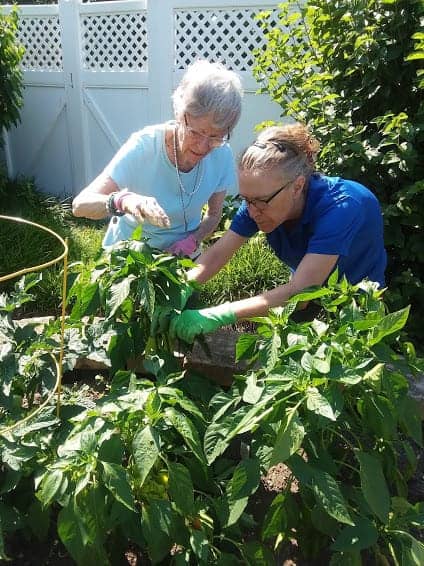 "To be able to share what we create with others is special," she said. "They really work at it to be able to share with others. We've made salads and pasta salads. The garden has really spurred participation as a team effort."
Magnolias of Lancaster has two raised garden beds as well as plants in various spots in the courtyard area. Seifried said residents and staff began planting in April. Ken Kraft, safety/maintenance engineer, "measured every inch of the courtyard," she said.
Sarah (Snavely) Lanza, LifeStories Director, polled residents to see what vegetables they'd like to grow. "They really brainstormed," Seifried said. "They decided, 'This is what all of us can work on together.' One resident recently picked 120 cherry tomatoes. A respite resident said the gardening is what got him through his stay. The residents are always looking forward to going out to the garden."
Senior residents are more likely to participate in outdoor activities now that the gardens are producing vegetables. "Plus, people are eating healthier and making salads," Seifried said.
For more information, contact Julie Seifried, Executive Director, Magnolias of Lancaster, at jseifried@integracare.com or 717.560.1100.