Written by Mara Sultan, her Granddaughter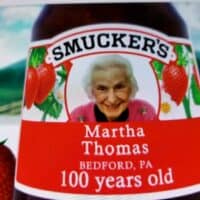 Martha Brode was born in Coalmont, PA, January 7, 1918.  She lived a very modest childhood, like most of the folks in a coal mining town.  Life wasn't easy, but she didn't know it.  She was a kid who enjoyed school and friends and learned the importance of hard work.
After graduating high school Martha landed her first job at the 5 & 10 in Saxton, PA.  Not long after that, she was introduced to her soon to be husband, Avery Thomas, through his sister.  They were married, and set up housekeeping in Six Mile Run and Avery worked very hard in the coal mines.  Martha can remember him coming home covered in soot.
Martha soon gave birth to a beautiful baby girl, Lucinda Dianne Thomas.  Shortly after, the couple moved to Pittsburgh, PA where Avery began a wonderful career at Westinghouse for 57 years.  During this time, Martha raised Dianne and watched her enter beauty pageants, and become an accomplished violinist.  She also was able to see her go to college, get married and have two children, Mara and Aaron.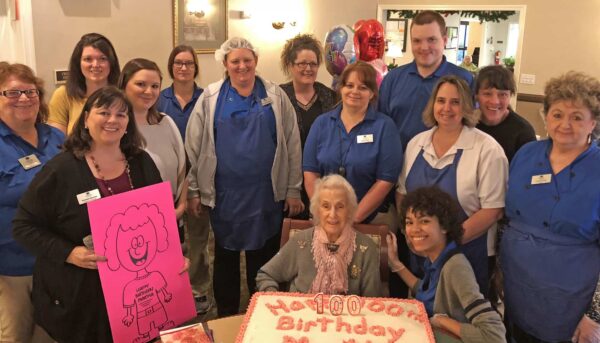 Martha discovered she was good at sales-especially when it involved clothes.  She worked at an exclusive dress shop in Pittsburgh, and was known to be able to pick out just the right outfit for her customers.  She also learned never to let a customer walk out the door unsatisfied.  She would work with them until she found just the right item.
In retirement, Martha loved to play cards with friends, go to church, and bake – especially cinnamon rolls and pies.   She also kept a mighty clean House!  Her favorite things are peanut butter, angels, the color pink, fresh fruit, and her frequent shopping trips to Wal-Mart with her granddaughter Mara.
Martha and Avery were lucky enough to become snow birds, meaning they spent 11 winters in Florida with their friends.  Sadly, her daughter Dianne, passed away in 1997 and her husband Avery passed on in 2001.  Martha kept going and with the help of friends found a wonderful home in September 2001 at Colonial Courtyard at Bedford.  Today she continues to play her harmonica with the RSVP group, leads devotions in the evenings, and just loves making new friends.  At 100 she has been on a plane, train and bus to visit her grand kids and great grandkids.    She is so proud of all of them.
"I am truly blessed to have a Nana like Martha.  She is an inspiration to others, simply because her faith in God only allows her to see the positive in everything and everyone.  Nana brings nothing but light and happiness to everyone she knows and I can only hope that I will also be like Nana someday."  Mara Sultan.