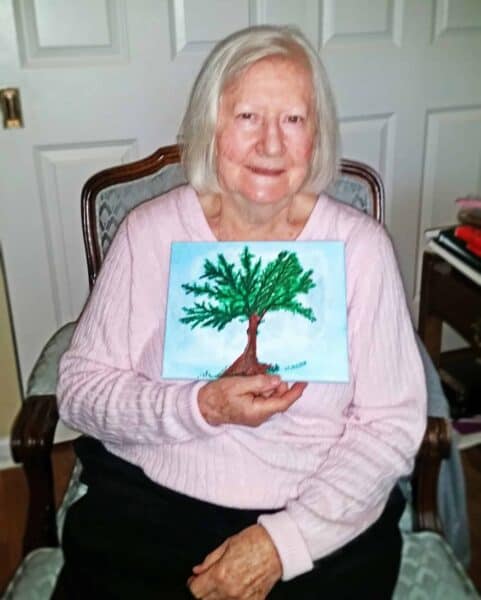 "Being creative is not a hobby. It's a way of life" 
Jean lives her life in that creative way.  She has been an artist, art teacher, florist, baker, photographer, and a great homemaker.
She was born in Bethlehem, PA on August 21st, 1929 to Eva and Martin Sacks and was the youngest of two.  At 21 Jean joined the Navy and earned the rank of E-2. She was stationed in Pensacola, Florida where she graduated from photography school and became a photographer for the Navy. While there, she met Paul, an aviator for the Marines. Paul served in the Marine Corps for almost 32 years, achieving the rank of full Colonel.
Jean left the Navy to marry Paul in October of 1951 in her hometown.  While Paul was serving in Korea, his jet was hit by the enemy fire and he was erroneously reported dead. This left Jean as a widow for one week, until Paul was then reported alive.  Jean was a devoted Marine wife to her husband. They moved 39 times throughout the United States within their sixty one and half years of marriage. During their moves and transfers Jean taught her own art classes out of her house or at different places within the town she was currently living. She has done this throughout her whole life.
Jean has a love for art and painting and has produced many works throughout her life. Many of her paintings have been displayed in art galleries and some were judged to be quite valuable.  Some of Jean's favorite paintings including some her first works are on display in her apartment here at Magnolias of Lancaster.
Told by doctors she would never have children, Jean proved them wrong with three beautiful children; Thalia, Paul Jr., and David. Her 3 children have blessed her with 9 grandchildren and 4 great-grandchildren.
Beyond her hobbies and skills, Jean has a love for Jesus and a strong faith. She has served almost every Church she and Paul belonged to. Her faith in Christ has comforted her through many tough times in her life. You will have a very rare conversation with Jean that will not include her saying "I love the Lord!"