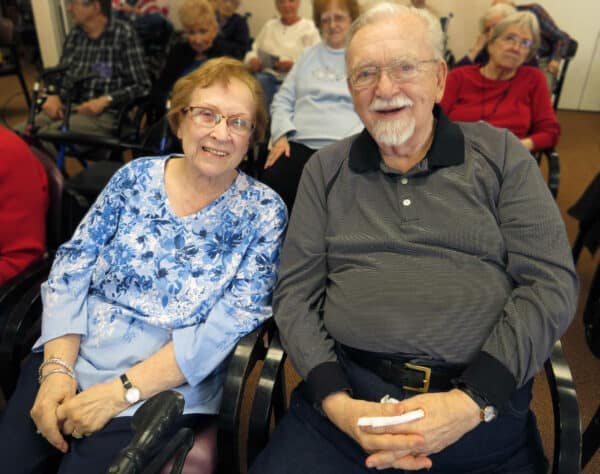 Bill and Sonia, one of our lovely married couples at Newhaven Court, have had quite the life together! They originally met at a church function when they were both of high school age, but different towns.  They recall it being a much different time then as they didn't live in the same area, so seeing each other was not convenient, and therefore, not frequent.
However, they made it work and were married in 1955, right before Bill left for Canada to go to the seminary.  From there, Bill became an Orthodox Priest and Sonia became a nurse. They have three children, two daughters and one son, eight grandchildren, and two great-grandchildren.  When asked about their favorite memories together they both shared that some of their best times were in all their travels.  Together, they have been to the majority of the 50 states as well as quite a few countries, including multiple trips to France, Turkey, Denmark, and Mexico, among others.  They traveled some before children, but their favorite trips have been those with their children and grandchildren.
Now, at Newhaven Court at Clearview, they enjoy spending their days relaxing in each other's company.  They love to reminisce on their "younger years" as well as listen to Ukranian music, which they both share a love for as they each have Ukranian heritage and have spent many years singing and dancing to it's music.  Bill occasionally likes to play a tune on the piano in the community room to relive his favorite pastime of being a musician and Sonia enjoys doing a variety of activities including Crossword puzzles and watching the various entertainers here at Newhaven Court.