Newhaven Court at Clearview's family is growing!  In January, we rescued and adopted "Graham", a 10-week old male Plott Hound mix.  He and his 3 siblings were rescued in West Virginia and brought to the
Bridge to Home Animal Rescue
in Eighty-Four, Pa.  We immediately fell in love with Graham!  He's made quite an impression on the residents, staff, families and visitors!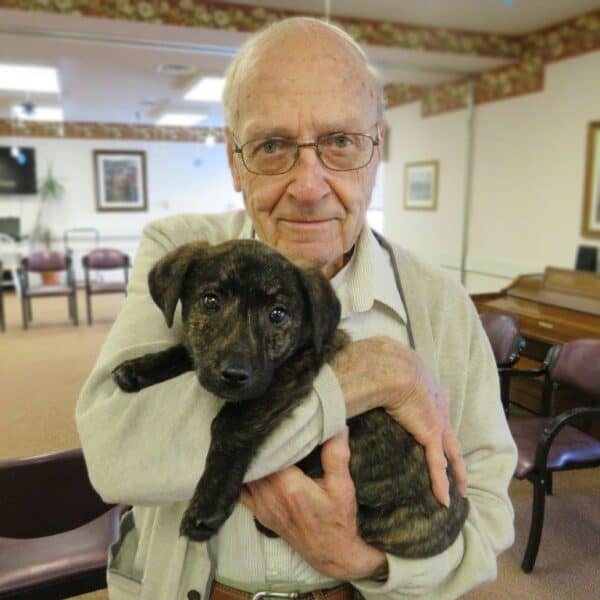 Like many of us, we had never heard of the breed Plott Hound.  So, here's a little synopsis:  the Plott Hound is a large scent hound, originally bred for hunting bears. These dogs had been bred for generations for their stamina and gameness.  A male Plott Hound should measure approximately 20 to 25 in. at the withers and should weigh 50 to 60 lbs.  The name, Plott, comes from  the Plott family, whose ancestor, George Plott (c. 1733-1815), immigrated to North Carolina in the late 18th century from Germany.  In 1750 Johannes "George" Plott emigrated to the English colony of North Carolina. He brought a few wild boar hounds (five Hanoverian Hounds, used for bear and boar hunting) with him, and these dogs were bred locally, creating the early examples of the breed.
Graham will be our new "house pet" for Newhaven Court's residents and visitors to enjoy. Graham will live on site and is cared for by the community staff.  Our goal with the community pet program is to assist us in creating a warm and personal environment that offers features that one would enjoy at home.  We are pretty sure Graham fits the bill perfectly!
Stop in to visit us and meet Graham, soon!