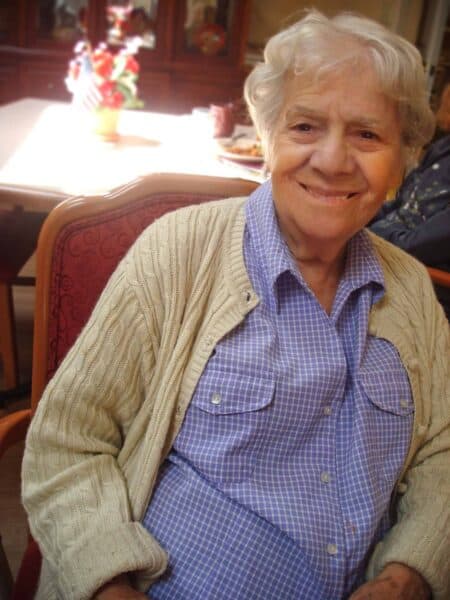 Millie Landis, a resident of Magnolias of Lancaster, always had a love of sharing her Italian heritage with her family and friends. One way she did that was through her wonderful cooking of homemade Italian meals that she was well known for.   She was born in Hershey, Pennsylvania to Italian immigrant parents, Sebastian a laborer and Emelia a homemaker. She had five siblings and two half siblings. Millie attended school in Hershey and graduated from Hershey High School in 1947. She then enrolled in Hershey Junior College. During this time Millie married her first husband and had three children. She was a homemaker until she divorced her husband in 1973.
After her divorce, Millie needed to support her family. She always had a goal to obtain a college degree, so she went back to school and earned her bachelor's degree in 1981 from Penn State University where she continued to work in the admissions office. Millie continued her education and obtained her master's degree in Humanities at the fine age of 60 years old from Penn State University.
In the year of 1993, Millie married her high school sweetheart Frank Coyle. They enjoyed many years together living both in Hershey and refurbishing Frank's family farmhouse in upstate PA. Millie was always close to her children and grandchildren becoming an integral part of their lives.
Millie was very active in her church where she served on many committees, volunteer frequently, taught Sunday school, and was part of the church council, and on the school board for St. Joan of Arc School. Millie also was a volunteer in the Hershey Library and was very active in the Derry Township Historical Society. She spoke frequently about Hershey history and was sought after to write about the many historical moments of the Hershey story. She would write weekly articles that were published in a local paper and contributed to a book published about Hershey.
Millie now resides at Magnolias of Lancaster and continues to share her Italian heritage with the Team Members and her fellow neighbors. She is always making friends with everyone that enters the community and her smile always brightens a room.