Baltimore native Charles Fritze will turn 100 on April 17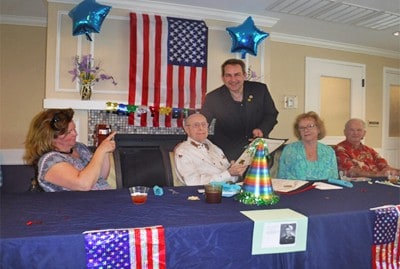 EASTON, Maryland – Candle Light Cove will hold a 100th birthday celebration on April 17 at the senior living community at 106 West Earle Avenue.
Resident Charles Fritze, a native of Baltimore, will become a centenarian on that date. He will be Candle Light Cove's third resident to celebrate a 100th birthday already this year.
"I am truly blessed," said Fritze, who moved to Candle Light Cove in July 2018 and has become a vital and active member of the community.
In addition to family, staff and residents at Candle Light Cove, the milestone will be celebrated by representatives of Maryland State Senator Addie Eckhardt's office and General Assembly of Maryland Delegate John Mautz's office. Veterans of Foreign Wars and the Masonic Lodge dignitaries also will participate in the celebration, which will begin at 2 p.m.
"The team at Candle Light Cove wishes a healthy and happy birthday to Charles," said Tami Weber, Director of Sales and Marketing at Candle Light Cove. "He's been such a spirited and active member of our community. He's so young at heart that no one can believe he is going to turn 100."
Born on April 17, 1919 in the Arbutus area of Baltimore, Fritze was an only child. He remains a member of the Free Masons and is a World War II Veteran who served in the U.S. Navy.
For 57 years, he was married to "a wonderful lady," his late wife, Catherine Irene, whom he met on a blind date. The couple eventually enjoyed their honeymoon in Ocean City, Maryland, and resided in Arbutus. They had one child, a daughter, Pat.
For 30 years, Fritze worked as a foreman of a Baltimore City Glass Factory. He retired at age 60. He was an avid hunter and fisherman.
For more information, contact Tami Weber, Director of Sales and Marketing, Candle Light Cove, at tweber@integracare.com or 410.770.9707.