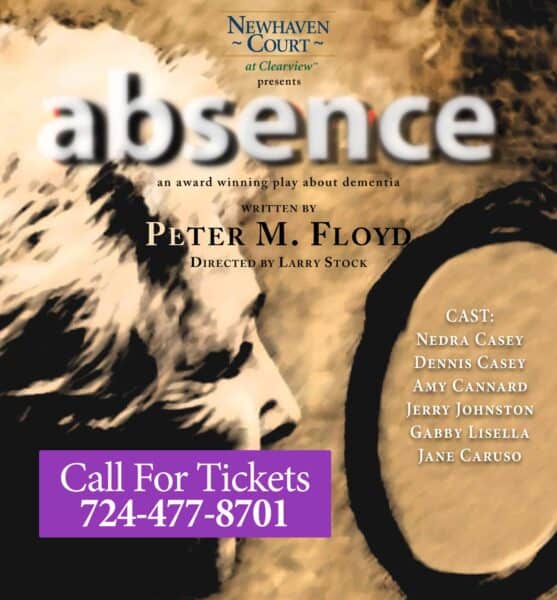 BUTLER – His role as director of the award-winning play "Absence" has added significance to Larry Stock.
Newhaven Court at Clearview will present Peter M. Floyd's powerful story about dementia and the disease's impact on families and loved ones from Sept. 21-23 at The Succop Theater on the campus of Butler County Community College.
"I was very honored that Newhaven Court at Clearview asked me to take on this project," said Stock, who is in his 17th year as the Cultural Center Director at Butler County Community College. "My mother is a resident there. While she's not in the memory care unit, she does suffer with a bit of dementia. She is in her fourth year at Newhaven Court, and I've seen the service that the team there provides."
"This play addresses a very important issue that affects so many families," Stock continued. "Peter M. Floyd's script tells a moving and important story."
Nedra Casey, a life member of the Butler Little Theatre, will play the role of Helen Bastion, a 74-year-old woman who struggles through the many stages of dementia. Dennis Casey, who also has been active in the theatre for more than 50 years, will play Dr. Bright. Amy Cannard plays Barb (Bastion) Devon.
Other roles will be filled by actors with local and regional ties such as Jerry Johnston (David Bastion), Gabby Lisella (Samantha Devon) and Janie Caruso (Dr. Delane/Ms. Moss). The play will begin at 7 p.m. on Sept. 21-22, and at 2 p.m. on Sept. 23.
"This is such a powerful script," Stock said. The cast ended many of the scenes in tears and had to regroup before we went onto the next part of the play during rehearsals. The play has an important message that this is a debilitating disease and we need to figure out what causes this disease and how we can best address it."
Butler County Community College and the Alzheimer's Association are sponsors of "Absence."
Reserved seat tickets are $15 for adults, $13 for students and seniors over 65. Tickets may be purchased through Newhaven Court at Clearview at 724.477.8701, or The Succop Theater Box Office at 724.284.8505. Order online at bc3.edu/succop-theater.
"This play is powerful and has such an emotional impact on the audience," said Stephanie Steiger, Director of Sales and Marketing at Newhaven Court at Clearview. "Without Larry Stock we would not have been able to pull off this play. I'm so thankful to him and the actors. They're taking their own personal time to do this for our community because they feel so strongly about this disease and the effects it has on so many people."
For more information, contact Stephanie Steiger, Director of Sales and Marketing, Newhaven Court at Clearview, at ssteiger@integracare.com or 724.477.8701.