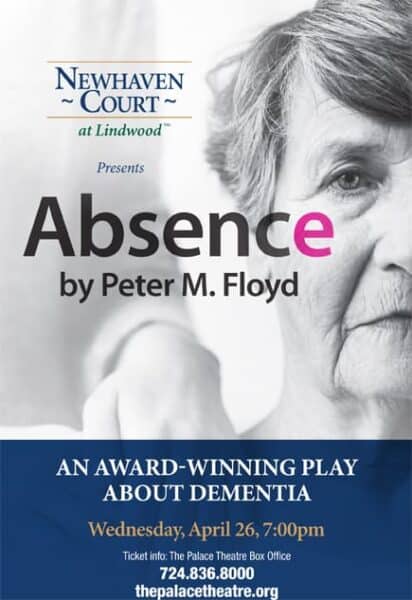 GREENSBURG, Pa. – Award-winning director Michael Anton has seen first-hand the impact dementia has on seniors and their families through his work with Newhaven Court at Lindwood senior living community.
The Jeannette native has combined his passion in the arts and his commitment to senior care as director of the play "Absence," which puts a spotlight on dementia. The award-winning play by Peter M. Floyd will be presented by Newhaven Court at Lindwood on April 26 at the Palace Theatre in Greensburg.
The play will begin at 7 p.m., and all proceeds will be donated to the Alzheimer's Association. Tickets are $30.
"The Alzheimer's Association Walk has had such a significant impact in regards to spreading awareness and raising funds to support Alzheimer's research, but in the end there is still a significant hill to climb in regards to educating the general public to the effects that this disease has on both the family and the person or persons suffering from Alzheimer's," said Anton, who won a 2016 NYLA International Film Festival Award for the documentary "Democracy Road" and has completed seven films to date.
"Peter M. Floyd's script gives the audience a direct link into the world of Helen Bastion, a 74 year old woman, as she struggles through the many stages of dementia," Anton explained. "The effects the disease has on her family, as well as herself are portrayed in such a humanistic way that although the story is a wild roller coaster of time jumps, plot twists, and infused dramatic irony, you feel that you are right there with Helen every step of the way."
"Absence" features the talents of Linda Stayer, one of the most prominent theatre actresses in Westmoreland County during the past 30 years. Stayer has starred in dozens of productions, most recently "Cabaret" at the Lamp Theatre. She currently is being considered for the lead role in Anton's next film, "In the Valley of the Wandering Minds," which takes place in a memory care unit.
Newhaven Court at Lindwood Executive Director Lori Grant was moved after watching one of the rehearsals for the play. She believes "Absence" drives home the impact of dementia from multiple perspectives.
"Emotionally driven, inspiring, and a perfect representation of this disease," Grant said of  "Absence." "I felt the emotion, anger, and frustration from the actors.  I didn't want to leave and was completely drawn into the story."
"This is a perfectly put together play that portrays Alzheimer's in such an inspiring and emotional way," she added. "You can understand how both individuals feel —  the person living with Alzheimer's as well as the person's family.  Michael (Anton)  pieced together such talented actors that draw you in and capture your complete attention.  This is definitely a performance and a well put together piece that you do not want to miss."
Anton said his goal is to raise awareness to the effects of Alzheimer's disease through the portrayals of the actors.
"When I was given the opportunity by Integracare and Newhaven Court to direct this production, my first contact was the Alzheimer's Association," Anton said. "What better way to build awareness and raise funds to support the end to this disease than an event that not only puts the audience in the shoes of someone suffering from dementia, but that also could be replicated and spread throughout the country as a means to engage the community and continue to grow support for the Alzheimers Association Walk?"
The cause is important to Anton, who has worked in healthcare for more than 13 years. He won the 2012 Aster Award for writing and designing a Hospice booklet for families interested in services. Anton currently serves on the Alzheimer's Walk Committee for Westmoreland County as the Advocacy Chair.
Those familiar with Newhaven Court at Lindwood know him as the senior community's director of sales and marketing. He uses his full name Michael Anton Monsour in his Lindwood role.
His cousin, also named Michael Monsour, is an actor who starred in the movie "Everybody Wants Some" (2016). The cousins have worked together in the past.
"I have always tried to maintain a balance as well as some separation between filmmaking and my work in healthcare," Anton said. "I was very young when I started in the film business, optioning my first script before I turned 20 and directing my first film when I turned 21. The fortunate thing about filmmaking is when you write, produce and direct your own work, you have more control in regards to when you are actually going into production. Because of this I have managed to approach my film career at my own pace, while maintaining my work in healthcare and my work with seniors."
The dual career path may produce a challenging and sometimes hectic pace, but Anton would have it no other way.
"I am not a believer that we are resided to one passion in life, and in the end filmmaking like healthcare is all about connecting with people on an emotional level," he said. "I take great pride in the opportunities I have been given to do that in two mediums, and in truth they both in many ways fuel each other. I believe the imprint you make with the time that is given to you is far more important than the accolades."
The play also will include a silent auction of artwork by residents from senior living communities throughout IntegraCare, which operates Newhaven Court at Lindwood as well as nine other communities in Pennsylvania and Maryland.
"There will be 10 paintings representing all 10 communities," said Butch Cassiday, IntegraCare Regional Director of LifeSTYLE and Life Stories. "They will be painted on an 8-by-10 canvas and displayed on easels for the silent auction after the play. We will use this artwork to raise money for the Alzheimer's Foundation and also to further illustrate, as the play does, the challenges that those with dementia face."
Anton said any senior community, facility or agency that purchases a block of 10 tickets will receive one free ticket and have a logo placed in the play's program. Ticket information may be obtained through The Palace Theatre Box Office at 724.836.8000.
"My phone is literally ringing every hour of the day with healthcare communities, facilities, and agencies all wanting to be a part of this incredible event," Anton said. "The 10 ticket block is a great way for these organizations to be well represented for incredible, tireless work, when it comes to caring for their patients and residents suffering from dementia."
For more information contact Michael Anton Monsour, Director of Sales and Marketing, Newhaven Court at Lindwood, at mmonsour@integracare.com or 724.853.2505.