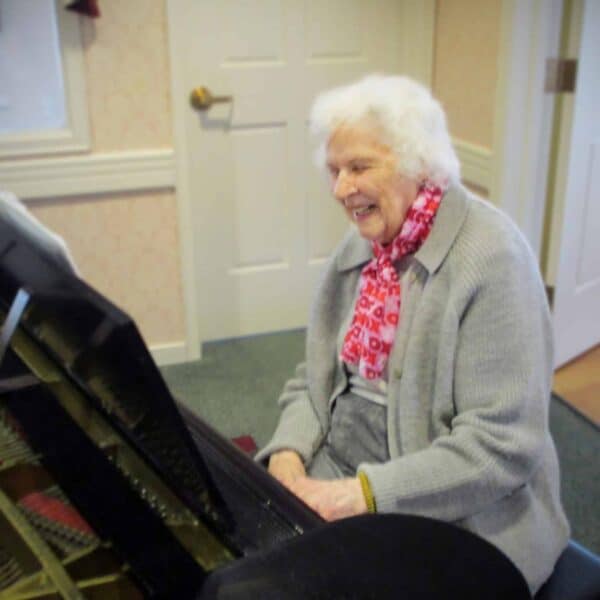 One of the greatest things about working in senior living is getting to know each resident as new friends. We find out about hidden talents or passions and try to utilize those within our Activity Programming to ensure there's something for everyone. Shortly after she joined our family, Pat began playing our baby grand piano and amazing everyone with her beautiful talent. As soon as Pat became comfortable in her new surroundings, she started playing our Organ for Church services too. Residents and guests enjoy Pat's playing so much that we actually designed two entire programs that occur weekly around her playing.
Every Wednesday evening Pat plays the Piano in our lobby for whomever likes to listen. At first Pat had a small little crowd of maybe 4-5 who would listen, but now her beautiful tunes fill the lobby so well we often run out of seats! There are residents, family and team members who gather around
The second program created around Pat was our Happy Hearts Singing group that gathers every Friday! Each resident is given a song book and as Pat plays the melody, we sing along to many different nostalgic tunes from the decades. Pat's two programs have not only brightened an endless amount of people's days but have helped increase attendance in programming as many residents who don't typically come to activities will join Pat for one or both of her weekly programs! Pat not only plays for these activities, but you can always catch her Sunday mornings playing the Organ for Church services and Thursdays in the afternoon playing for our Rosary!
It's been 5 years since Pat joined Newhaven alongside her husband Frank and we are forever thankful for the endless amount of good that has come from that day. Thank you for all you do Pat Jackson!