Highlights included senior healthcare discussion, introduction to 106-year-old resident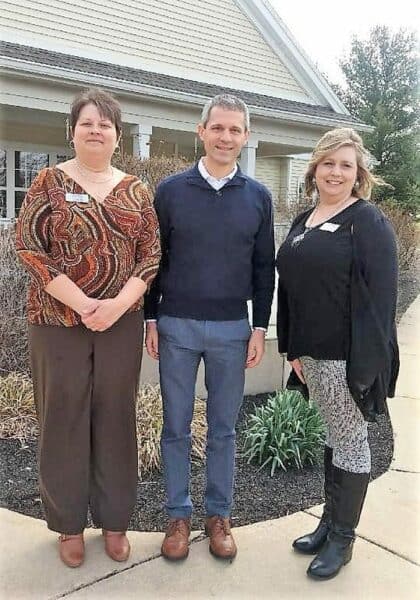 CHAMBERSBURG, Pa.
  — Pennsylvania Representative Rob Kauffman of the 89
th
 Legislative District, Franklin County, visited Magnolias of Chambersburg recently to discuss various topics important to seniors and senior living communities.
"With Pennsylvania's senior citizen population second in the nation and growing, issues that impact our seniors are critical," Kauffman posted on his Facebook page on April 6. "This week I toured the Magnolias of Chambersburg to discuss senior healthcare issues. I even had the opportunity to meet a 106-year-old resident."
Kauffman was introduced to Magnolias of Chambersburg resident Irene Rebok, who will turn 107 years old in June.
Representatives from the Pennsylvania Health Care Association also attended. Those were: Zach Shamberg, director of advocacy and legislative affairs; Gail Weidman, director of policy and regulatory affairs; and Carmy Jerome, assisted living and personal care director.
PHCA also participated in a discussion of House bill 1037, which is known as the Medical Care Availability and Reduction of Error Act.
"Mr. Kauffman visited for nearly and hour and toured both of our communities," said Magnolias of Chambersburg Executive Director Tressia Day. "He met Ms. Rebok, which was among the highlights of the day."