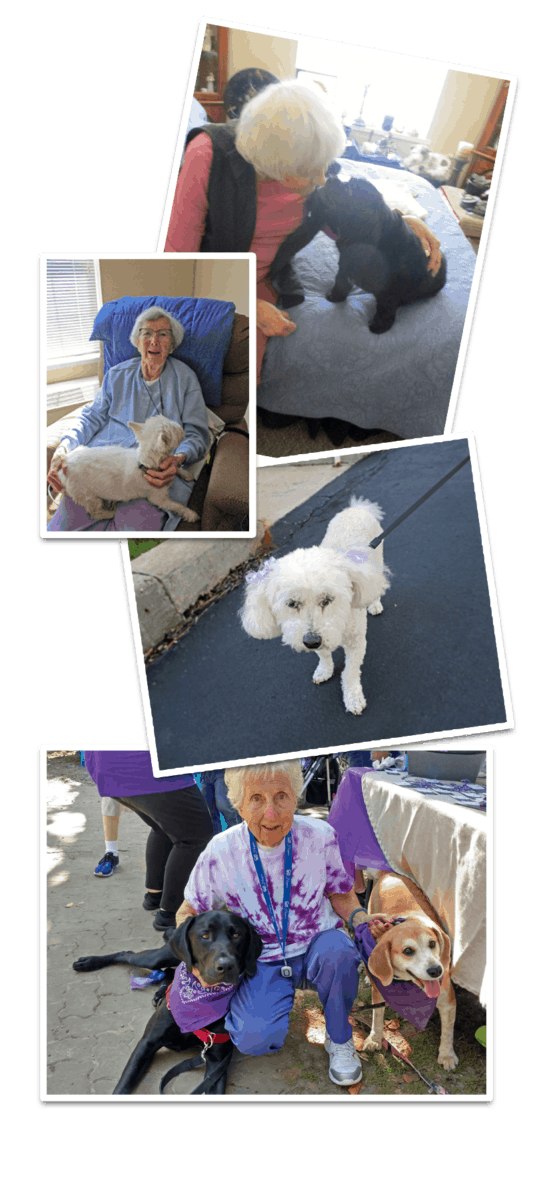 Everyone says dogs are man's best friend, but few realize the impact these animals have on the lives of residents in senior living communities. At Newhaven Court at Lindwood, we are a pet-friendly community and welcome residents to bring their furry family members.  Currently, we are home to five loving residents' dogs. Three of our residents are the owners of dogs ages eight, eleven, and sixteen.
Fran adopted Zoey, a 16 year old terrier in 2016 from Pet Friends. The two take daily walks and love to sit together outside. She says Zoey is her reason for getting up in the morning, knowing they were meant to be together when she met her. "I was old, and she was old. So I thought we'd go together well. She's my best friend."
The same friendship can be seen between all of our animals and owners at Newhaven Court. Suzie and her 11-year-old poodle mix, Sugar, have been together for seven years. Suzie adopted Sugar from the Humane Society after Sugar had been severely burnt by a previous owner. Suzie says, " She brings me a great deal of joy every day. I have owned dogs for 39 years, and I knew I could love her and help her."
Mary Lou adopted her eight-year-old Cavalier Spaniel, Mini, when she was only 12 weeks old from the Humane Society. Mary Lou had recently lost her husband and knew she needed a new companion. They instantly became best friends,and have been inseparable ever since. She said "when I was going to move out of my home I told my kids I had one rule: Mini has to come too."
For those residents who are no longer able to care for their own animals, we have Luna and Stella. Stella, our community pet, has lived at Newhaven Court for eight years. She earned her certification in the Good Citizens Program and brightens the lives of residents each day. While Stella is the perfect companion for cuddling and relaxing, our newest addition, a black lab mix named Luna, has brought even more excitement to our community. She is only 7 months old, but already the residents have fallen in love with her. Every day they enjoy watching her run in the courtyard and play fetch. Their faces light up and they reminisce the days with their own pet friends.
Mary Lou summed it up perfectly saying, "When you get older, you realize that most of what you own is just stuff. In the end, the only things that matters are your family, your friends, and your pets."