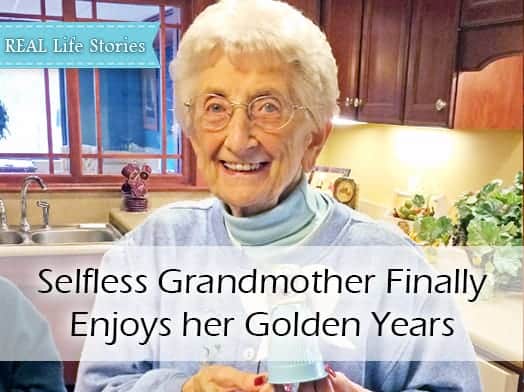 If you saw Ada today you would never think that she wasn't happy to be a Woods Resident.  But it wasn't always the case.  I worked very closely with Ada and her daughter to welcome her to The Woods.
The Vibrant Life That Was
Ada was a witty social butterfly of the neighboring town. EVERYONE knew Ada or "Honey" as her family calls her.  She was the one who served on every committee there was, visited the 'shut-ins' at church, and lead the crafting groups.
When Ada went into the hospital due to series of falls and other health issues, the time came for her family to look for a community for her.  Ada's response was not positive.  She said, "I'm the person who goes and visits "those people" not the person who lives there!"  Helping Ada see there was more to The Woods at Cedar Run than 'those people' would be a challenge.  We were able to persuade her to join us just to try it out with a Respite Stay.  Even with Ada's agreement, her daughter, Holly, reported her mother was still not pleased.  Ada would say things like "I'll try it but you know I am not leaving my house".  As it is for many, the thought of leaving her long-time home was daunting and proved to be the primary obstacle for Ada.  She didn't want to leave that beautiful Victorian home with all of the memories, her neighbors, and her "stuff".
The Turning Point
Ada came to The Woods in the summer for her Respite Stay and was instantly crowned the Queen of the 2nd floor.  Our residents loved being around her, and our staff loved taking care of her and hearing her funny jokes.  Ada was pleasantly surprised to find that she could be just as active here at The Woods as she was at home, with the peace of mind that there was help when she needed it.
Holly, her daughter, mentioned that, "As hard as it was knowing Mom may not go home, it was amazing to see how fast she has adjusted."
The time finally came to make a decision about whether Ada was going to continue her time at The Woods or go home.  Several family meetings were held to discuss Ada's Family's concerns about Ada being back in her home and the risks that would potentially bring.  We included our outstanding activities team in those meetings to help illustrate to Ada and her family what a wonderful part of The Woods' Family she had become to the residents here.
The Vibrant Life That IS
After careful discussion Ada agreed to call The Woods home.  She has happily lived here for about a year and a half and in that time has formed the Crafters Corner, Coupon Cutters, and has been named the "Head Golden Girl".  Ada's grandchildren and great-grandchildren are spotted frequently out by the creek feeding the ducks.  She has even taken the craft group that she led at Trinity United Methodist Church and moved it here so all of the participants can see how lovely her home is.  Ada is a true testament of someone who has given to others all her life that finally decided she needed more support.
Now that the support comes from The Woods, her children, grandchildren and dear friends can enjoy  the fun things like throwing craft parties and feeding the ducks.
Author, Michelle Loomis, is the Director of Sales & Move-Ins at The Woods at Cedar Run.  She, along with the entire Woods team, works with families to determine what their loved one's passions are, and what's important to them, to help build the best life possible at The Woods.  For more information about Ada's story, or to stop by The Woods, give Michelle a call at (717) 737-3373