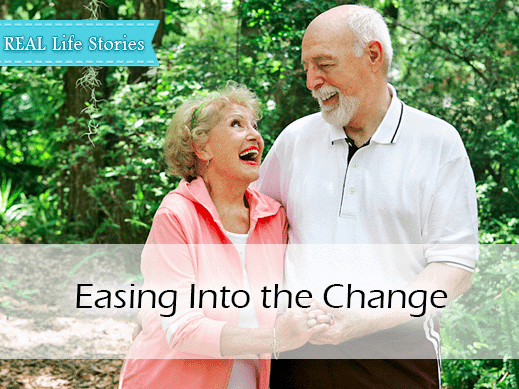 It was hard for the Stanley family to walk through the door of The Woods at Cedar Run with their father.  He had taken a fall and had completed his rehab therapy at the hospital, but His family was still concerned about him going home alone and wanted his therapy to continue.  They knew that could be done, successfully, here at The Woods.  What made it difficult was that their mother had already been a resident here for almost 5 years.  She was a wonderful, vibrant woman who brought such spirit to our Life Stories Memory Care neighborhood.  While her experience here was top-notch, the incurable disease of Alzheimer's had ultimately taken her from them, leaving them with bittersweet memories of The Woods.
How Do You Search Again After Loss?
So when it was time to look for care for Dad …it was with mixed emotion.   They remembered the The Woods as clean and well kept, but most importantly they knew their mother had been loved and well cared for.  Still she had passed away here and her father was well aware of that.
He resisted.  He told his daughters they were bringing him here to die.
But even on the first tour with their father, the family was greeted by team members who knew & remembered them.  It was a bittersweet reunion.
Experiencing the Value First Hand
The family knew that The Woods would be an excellent fit for their father, and they managed to coax him into trying us out with a two-week long respite stay, which could be extended as needed.  His first few days here were rough as the memories of his late wife's time here filled his mind.  Our caring team stopped in to visit with him in his room and ensure he was enjoying his stay, and try to coax him into a few activities.  By the end of the first week, he agreed to try his hand at Bingo – and he won!  He loved it!  Next he was the Bingo ambassador.  Those first two weeks turned into four weeks, turned into 6 weeks…
Though our respite apartments are nicely appointed, they're really only intended for shorter stays.  When a new apartment in his style opened up we showed it to him.  It had a nice view, and was refreshed with crown molding and modern details that were very welcoming.  He loved it!  After having the opportunity to experience life at The Woods for himself, without the pressure of a long-term commitment, he was able to see the value of such a wonderful community, making the decision to stay long-term a no-brainer.
The Difference is in the Everyday
While Mr. Stanley's family claims he was always a solitary man it would be hard to recognize him as such today.  He's seen at many activities, on the men's outings, showing other residents how to use the computers and generally one of the friendliest and most active residents we have.  Recently he told his daughter how excited he was to be a part of our New Resident Ambassador Program.  He's jumped in with both feet and is making a true difference in providing a welcoming experience to new residents.
Mr. Stanley exudes a joy that wasn't present only a few weeks before.  He came in hardly able to walk and now it's hard to find him – he's everywhere!