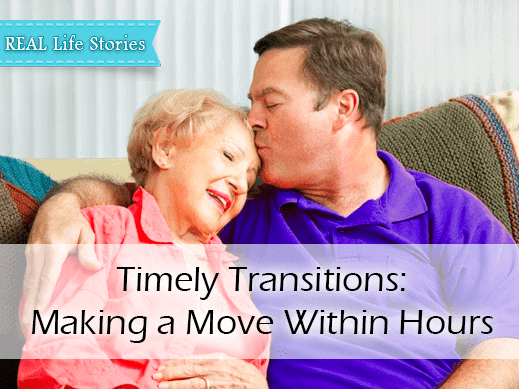 For some families, the search for care is a long and arduous task.  For others, the decision to look for care is thrust upon them.  For both, we offer a supportive network to make the transition as easy as possible.  The following is the story of how Alma Plunkard, Director of Sales and Move-Ins at Newhaven Court at Clearview, assisted an out-of-state family member make a seamless transition to her community for his mother in a mere 3 days' time.
John Cooper called me one July morning very worked up.  John lived in Maryland while his dear Mother lived here in Butler County.  She had been staying at Sunnyview Nursing and Rehabilitation, regaining her strength after illness.
As often happens in nursing settings, Sunnyview was looking to discharge John's Mother, Anne, in the next few days.  Her rehabilitation had progressed as far as it  would and her time at Sunnyview was nearing an end.  John had to act fast to find a place that would be able to provide his mother assistance with her daily needs – from 4 hours away in Maryland.  This task seemed daunting to John, and he was understandably upset when he called us at Newhaven Court at Clearview that morning.
John already had some assistance in the search when his mother's social worker, Rachael, suggested Newhaven Court at Clearview to him.  He made the frantic call, and I immediately began taking his questions and, to his surprise, answering them and assuring him that we can make this happen.
Having not had to search for assisted living care before, and knowing his Mother's unique needs and hobbies, he had a few questions and concerns.  I explained that I would be in contact with Rachael to learn more about his mother's care needs and to complete an assessment to be sure Newhaven Court would be able to properly manage her care.   I was able to complete her assessment within a few short hours of his initial call, and followed up with him immediately to share the good news – that we could indeed care for Anne.
Common Concerns
John had some additional concerns that I was able to quickly put at ease, like:
"What am I going to do about a bed and other furniture?  I can't get there to move her." – I explained that we have furniture on hand to set her up with a comfortable bed and welcome her home, and that he could bring her belongings whenever was convenient for him.
"What about a phone?  She loves to call and talk to family."  — I arranged for the apartment to have a phone line added, and even was able to provide him with her new number so he could call her as soon as she was settled in.
"What about a TV?  She likes her game shows." – I ensured that we included a TV for her before she arrived, and then showed her how to use it.
"What happens if she doesn't like it?  She can be stubborn." – I told him not to worry, she'll love it here.  If in the far off chance she doesn't enjoy it after a time, I assured him that he can cancel her stay with an easy 30-day notice.
"Do you have nurses there?" – I highlighted to him that we have 24/7 nursing care and we have wonderful resident Care Aides to assist her when she needs.
Within 3 days of John's initial call, Anne was settled into her new apartment home at Newhaven Court at Clearview.  Anne's transition to Clearview was seamless, and John was thrilled with how simple the process really was.  He said, "When you told me you would have her phone hooked up and even gave me mom's number, had the room all ready for her and T.V. working… I just wanted to sit down and cry relief.  When Sunnyview called me that morning I did not know how I was going to do all this and after talking with you I knew it would all go well."
After Anne was settled in, John's relief extended even to his own health and wellbeing, "After you assessed her and called to say she was fine to come to Newhaven I felt myself relaxing. That was the first night in about two weeks that I went to bed and I slept."
As for how Anne felt about the move, she actually thanked John for choosing Newhaven Court at Clearview for her.  Shortly after she joined the Newhaven Court family, we celebrated her 91st Birthday with her brother whom she hadn't seen in about 6 years, her son, her grandson but most of all her great granddaughter. Anne is still with us and very happy.