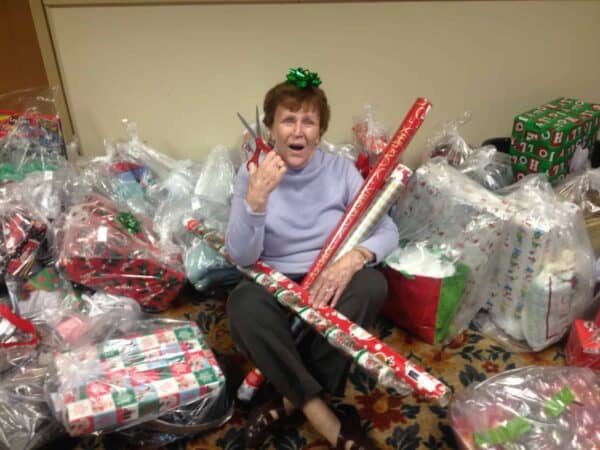 CAMP HILL, PA — Our residents at The Woods at Cedar Run look forward to our annual gift wrapping party the "Santa for a Senior" Event sponsored by Home Instead. Home Instead partners with local non-profit and community organizations to identify seniors who might not otherwise receive gifts during  holiday season. The company then works with local businesses and retail stores to help facilitate the purchase and distribution of gifts by placing trees and ornaments within their various locations. Each senior's gift requests are written on a Be a Santa to a Senior bulb which will  be placed on one of the trees.
However once the gifts are purchased, they need to be wrapped before delivery and that is when the residents of The Woods step in. With wrapping paper, scissors and scotch tape in hand they gather in our main dining room to wrap, and wrap, and wrap some more.  In the past 4 years we have probably wrapped more than 2,000 gifts and we are ready for more in 2017.
Last year we took the project one step further and sponsored a "Giving Tree" right  her at The Woods.  We did such a good job that the tree needed to be filled with ornaments four times before  the wrapping party.  What a generosity! So when you see the tree pick an ornament and think about the smiles your gift will bring to a senior in need.
This year's event will be on December 14th at 10am.  For RSVP & Details visit The Woods at Cedar Run's Facebook page here.
For more information about how you can get involved in this wonderful cause, contact Julie Seifried, Director of Independent Living Operations at 717-737-3373 or jseifried@integracare.com