Elks Lodge to host event in conjunction with senior living community
EASTON, Maryland – Candle Light Cove and the Easton Elks Lodge No. 1622 will present a "Senior Prom" featuring a "Fabulous '50s" theme on Saturday, May 5.
Doors open at 6 p.m., with dinner to follow at 6:30 at the Elks Lodge No. 1622, located at 502 Dutchmans Lane in Easton.
Tickets are $20, and the prom is open to the public. To reserve tickets, call 410.822.3344, Extension 10.
"Last year we honored one of our couples as they celebrated their 70th anniversary during a Valentine's Day-themed event," said Cissy Nickel, Executive Director at Candle Light Cove. "The Senior Prom was so popular we decided to follow up with a 'Fabulous 50s' theme. Everyone had a great time at last year's Senior Prom and we expect this one to be just as fun and exciting."
Shelley Abbott will provide music and entertainment. An official prom photographer will take photos. A 50-50 raffle will be held. All proceeds from the event will benefit the Alzheimer's Association.
"The whole night will combine all the nostalgia, music and good times of past senior proms while also benefiting a great cause," Nickel said.
In February 2017, Candle Light Cove honored couple Evelyn and Paul Winn, as they celebrated their 70th wedding anniversary. The couple was crowned as king and queen of the "Senior Prom."
"We want to build a tradition and enable our residents and their family members to make a special memory," Nickel said.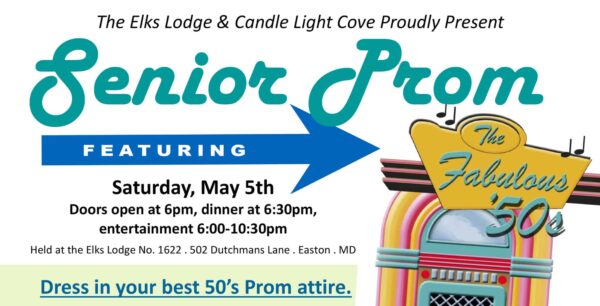 For more information, contact Tami Weber, Director of Sales and Marketing, Candle Light Cove, at tweber@integracare.com or 410.770.9707.