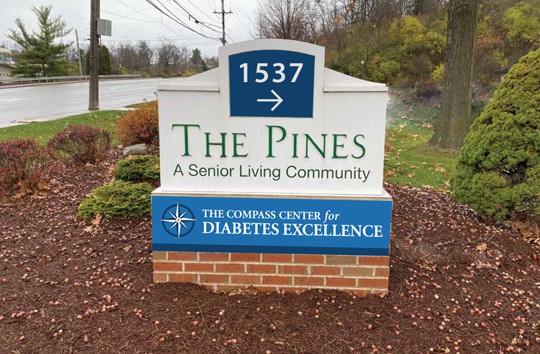 The diverse approach includes education, training complemented by wellness, dietary and technological advances
      PITTSBURGH, Pa. – According to the latest statistics by the American Diabetes Association, 26.8% of seniors have been diagnosed with diabetes. Approximately 1.5 million Americans are diagnosed with diabetes each year.
Those numbers are telling.
IntegraCare has implemented a proactive and diverse approach to helping seniors navigate to a healthy lifestyle through its Compass Center for Diabetes Excellence located in The Pines of Mount Lebanon senior community at 1537 Washington Road in Pittsburgh.
Navigating Their Journey
"We recognize that ultimately it is the seniors who are navigating their journey through diabetes, but we can be there to help them navigate that journey," said Larry Rouvelas, IntegraCare CEO. "We can help them make the right choices. We can help them navigate their way to the physician's office on a regular basis to get checked out. We recognize ultimately that we can be there to help get them to where they want to go health-wise."
The Compass Center for Diabetes Excellence's flagship program at The Pines of Mount Lebanon includes:
24-hour support and encouragement through a team trained in diabetes management.
Dietary professionals who provide nutritional and tasty menu options at each meal, making healthy choices not only smart, but easy.
Diabetes education for both residents and team members.
Structured fitness and healthy weight management programs.
Incorporation of technological advances at all levels of the program.
An Itinerary for Health to provide a clear path to follow, with solid goals for participants and the strategy to get there through steps per day, reduced blood sugar and more.
"It starts with wellness but it doesn't stop there," Rouvelas said. "Dining is another huge part of it, making sure that every menu, three meals a day, has diabetic-friendly foods. At the end of the day, the seniors have a choice in how they live their lives. We have an obligation as a diabetes center of excellence to provide a great range of choice for their meals."
IntegraCare's own educators create stimulating lesson plans in a custom itinerary for each participant. This makes it both fun and easy adjusting to a new lifestyle. Education is tied into the Compass Center's food and activity offerings, while participants share results and encourage each other's progress.
"The third piece we've pulled together is a terrific exercise and education program that will make sure that all the exercises we are doing with our residents are engaging to a resident with diabetes," Rouvelas said. "The education we're providing addresses how to eat and how to manage your medication and physician visits to make sure those things come together."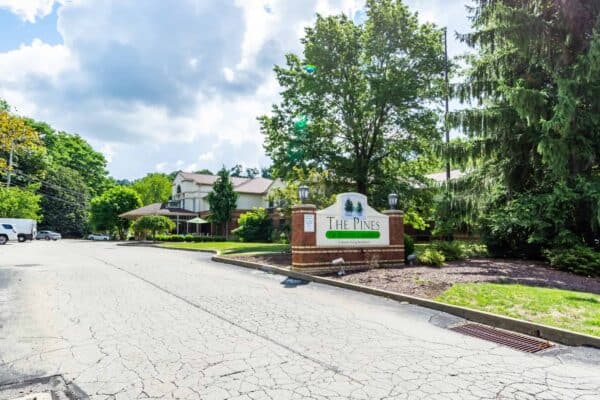 Quality of Life
The Compass Center for Diabetes Excellence integrates blood glucose checks, health screenings and physicians' updates for easy reference by family and staff. The program connects participants to medical professionals and pharmacists near The Pines of Mount Lebanon, streamlining the effort to keep care on track.
"Technology is an important part of making sure residents with diabetes are well-cared for," Rouvelas said. "There are two pieces which are particularly important – blood sugar monitoring and telemedicine."
The Pines of Mount Lebanon residents in the Compass Center for Diabetes Excellence program will have access to continuous glucose monitoring that doesn't involve the traditional pricking of fingers to monitor glucose levels.
"That's a real improvement in quality of life for seniors," Rouvelas said.
Intensive training
The Compass Center for Diabetes Excellence team participates in intensive training in diabetes management, including diet, lifestyle and specialized care. Dawn Murr-Davidson, RN, BSN, discussed the ongoing education and training available to team members and residents.
"The participants will receive multi-faceted education, which will include medication management; dining or dietary education; shopping to table meal preparation; activities such as exercise and mobility; and also behavior management," Murr-Davidson said.
"The Pines of Mount Lebanon will facilitate physician coordination and visits through our medical director and nurse practitioner, who visit weekly," Murr-Davidson said. "As well as through telemedicine visits with specialists to help monitor and make adjustments to participants' goals. Our licensed nurses will facilitate preventative monitoring lab work and any medication changes."
'The complete package'
The Compass Center for Diabetes Excellence provides the complete package to residents managing the disease.
"When you're looking for a personal care home for a resident with diabetes, there are a number of things you want to look for," Rouvelas said. "First, with wellness, you ask, 'What is the level of training the staff has?' The staff is going to be supporting your loved one, 24/7. 'Does the whole staff have good, strong diabetes training?'
"The second thing you want to look for is the menu. 'Does the menu always provide good, diabetes-friendly choices for the resident or is it filled with a lot of high-carb, high-sugar items that are tasty and crowd pleasers but not so good for your loved one?'
"Finally, you want to look for the level of education and activities for the resident that helps them make the right decisions," Rouvelas said. "Ultimately, they're the ones who are making choices about what they eat and they're making choices about how they exercise. 'Is there someone in the community that is regularly educating them about the right ways to live their lives, or are they on their own to figure it out for themselves?'"
The Compass Center for Diabetes Excellence at The Pines of Mount Lebanon provides all the correct answers to these questions.