'This is our family'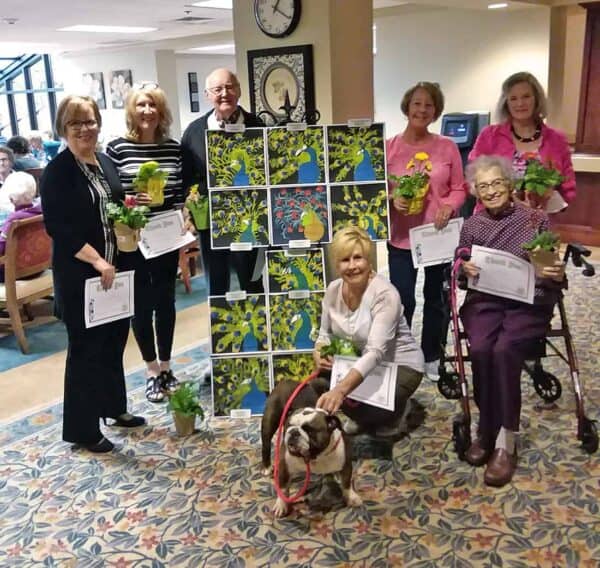 CAMP HILL, Pa. – Sisters Carol Crossley and Sue Moga spent countless hours visiting their mother during the three-plus years she resided at The Woods at Cedar Run.
When their mother, Shirley Erb, died at age 89 in July 2017, the sisters mourned their mom and celebrated her memory. They also soon realized how much they missed the quality time they had spent at The Woods, an independent living and senior living community.
Nearly a year after their mother died, Crossley and Moga are among a dedicated group of volunteers who donate their time to The Woods at Cedar Run. April is National Volunteer Month and National Volunteer Week was April 15-21.
"She had such special friends," Crossley said of her mom. "We would gather every evening and just be together. I felt that when she passed I also lost that family at The Woods as well. After a couple weeks I went to Julie Seifried and said, 'I just miss the Woods so much.' I asked if there was any way I could volunteer here. It's just been beautiful to have this opportunity."
Julie Seifried is the director of independent living operations at The Woods. She also interacts with volunteers throughout the year and is a driving force in the community's annual Battle of the Bells efforts during the Christmas season.
"Their mother, Shirley, was just a social butterfly when she lived with us," Seifried said. "As a member of our Independent Living Neighborhood Shirley was a very active, social woman who had many friends. Her daughters spent a great deal of time here and made many of the same friends as Shirley. They became a part of the social fabric here."
When Shirley Erb became ill last year, her daughters were with her each day at The Woods.
"My sister or I stayed with her every night so she could remain in independent living," Crossley said. "It was the most beautiful four months of my life to be with my mom and care for her. That made it all the more difficult to leave The Woods."
Crossley and Moga teamed with Seifried and became volunteers at the senior living community. The sisters help residents get to social events at the community. They serve treats at various functions. They listen.
"Julie calls us the party girls," Crossley said. "Wherever there is a big event, Sue and I will go. We are the socialites who go around and make everyone happy. Dancing with the Stars every Monday, I serve popcorn and wine. We help with Independent Living and play games with the Senior Living residents. We help residents in art class.
"Conversation with Carol and the Gang is a conversation game where we get to know our neighbors," Crossley added. "I basically do whatever Julie asks me to do. If they need help getting residents to an event or serving them meals, we do that. I just like being there. I've made a difference in other people's lives but they've made more of a difference in mine."
Crossley and Moga each live within 10 miles of The Woods, which helps with scheduling and traveling to events. Volunteerism has been a rewarding experience for both the seniors and the sisters.
"Seniors have been around for a long time and they have stories to tell and things to share," Crossley said. "You can always learn from that."
For more information, contact Julie Seifried, Director of Independent Living Operations, The Woods at Cedar Run, at jseifried@integracare.com or 717.737.3373.