THE SALVATION ARMY'S 2017 RED KETTLE CAMPAIGN &  BATTLE OF THE BELLS KICKS-OFF IN HARRISBURG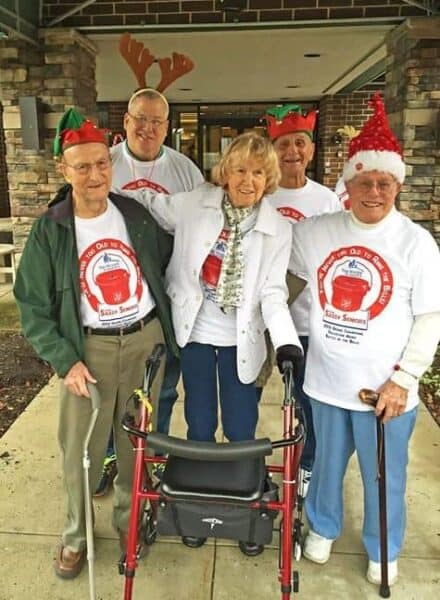 HARRISBURG, PA (November 9, 2017) –  The Salvation Army's iconic Red Kettle Campaign kicks-off this week in the Harrisburg Capital City Region.  The official start of the bell ringing season begins at the Red Kettle Kick-Off, Karns Foods, West Shore Plaza, Lemoyne, 10 a.m., Thursday, November 9.
The Red Kettle launch will include The Woods at Cedar Run's spirited Sassy Seniors bell-ringers, community leaders, Salvation Army advisory board members and holiday music.  Scott Karns, CEO Karns Foods, will kick-off the holiday giving season with a special announcement of a $35,000 gift to sponsor a Choice Food Pantry in the new Salvation Army Service & Worship Center, to be constructed at 29th Street & Rudy Road, Harrisburg.
The Salvation Army Harrisburg's 7th annual Battle of the Bells adds to the overall holiday effort, with teams competing to see who can raise the most money on behalf of The Salvation Army Harrisburg during the holiday season.  "The Woods at Cedar Run are the defending Battle of the Bells champs, but they face some intense competition from the previous year's top finishers, Smith Land & Improvement," says Kathy Anderson-Martin, director of resource development, The Salvation Army.   "We have several new teams this year, and others are welcome to join.  It's a lot of fun and a positive team building experience that makes a difference!"
"It's about doing the most good, and our residents are ready for it," said Julie Seifried, Director of Independent Living Operations at The Woods at Cedar Run.  "Last year was especially moving as we lost our champion bell ringer, Ernesteen Ecker, but her cause helped propel us forward to our best year yet, and we're ready to beat that achievement this year.  This year Mr. William Miller, 100 years young, will be a seven year veteran of The Battle of The Bells.  He has never missed one Friday of bell ringing since the start of the competition and we are dedicating this year to him! Our goal ~ $10,000 dollars!"
Representing almost 40% of The Salvation Army Harrisburg's annual budget, holiday fundraising and the Red Kettle Campaign are vital to the success of The Salvation Army Harrisburg's year-round programs and services for more than 18,000 people. "We anticipate a challenging year, but we also anticipate a great start to our 2017 Red Kettle season with our Kick-Off at Karns.  Our ability to serve others is dependent on resources provided, and we are deeply grateful for the support provided by individuals, groups and businesses in our local community."
Online donations can be made at www.salvationarmyharrisburg.org.  OR Text "TheWoods' to 41444 to donate today!
The Salvation Army Harrisburg Capital City Region
The Salvation Army Harrisburg has been supporting those in need without discrimination for 132 years in Dauphin, Cumberland and Perry Counties. More than 18,000 Harrisburg area residents benefit from the diverse programs of The Salvation Army each year.  Programs range from providing food and basic needs assistance to impoverished individuals, relief for disaster victims, outreach to the elderly, and a broad array of youth programs for more than 2,500 local young people. 84 cents of every dollar donated to The Salvation Army Harrisburg directly supports programs and services for those in need.
For more information about The Woods at Cedar Run & Team Sassy Seniors' efforts to support the Battle of the Bells, contact Julie Seifried, Director of Independent Living Operations at 717-737-3373 or jseifried@integracare.com