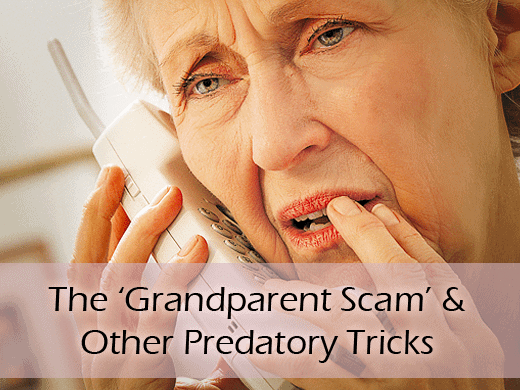 Scammers are a busy bunch.  They target anyone and everyone, but I just learned over 50% of fraud victims are senior citizens and that makes me angry.  It's a shame, but senior citizens are the fastest growing segment of the population to be victimized by an assortment of frauds and schemes.  Seniors are trusting, often lonely, hungry for conversation and easy prey.  There are so many scams out there, but here are a few of the most used.
The Grandparent Scam
An older adult gets a phone call from someone posing to be a grandchild saying they're in trouble or in jail in a different country and need money transferred immediately.  This scam uses an emotional connect.  If a caller says, "It's me, Grandma," don't respond with a name.  Let the caller say who he or she is then ask the caller a personal question, but don't disclose too much information.  It's also not uncommon for these scammers to plead for secrecy, asking you not to tell their parents or go to the authorities.
The Sweepstakes Scam
It's an economically hard time for many of us.  Winning a sweepstakes would be the answer to all our problems, but be cautious of any promotion that charges you money to get your winnings.  Remember, if you've really won something, it's not the prize promoter's responsibility to charge YOU for taxes.
Vishing Scams
Have you ever gotten a call that sounds like it may be legitimate, but you're not sure?  It may have been a vishing scam.  These scams try to get personal or financial information from you.  This type of call can come from a live operator, a robocaller or an automated message.  NEVER offer personal or financial information without verifying the caller's true identity.  The Better Business Bureau says hang up the phone and contact the published customer service number for the company you suspect the scammer is pretending to be to verify.
The Medical Quakery Scam
The Medical Quakery Scam targets seniors with all kind of claims to lose weight, improve health conditions and decrease chronic pain.  It's designed to reach seniors who are desperate and have tried everything.  Look for keywords in advertising like breakthrough, secret, exclusive or special.  Be careful if the product guarantees immediate results.  If it's too good to be true, then it usually is.
I've learned that before I trust any company with my personal or financial information to check out its Business Review with the Better Business Bureau at www.bbb.org  or by calling 877-267-5222.  It will give you their history for three years and any actions taken against it.  If you think you have been scammed, call your financial institutions immediately and put a hold on your accounts to prevent additional damage.  Call your bank, credit card companies, and any other financial institutions that the scammers may have collected data about.  The sooner you can 'freeze' the situation, the better.