Newhaven Court at Lindwood senior living community to host April 25 event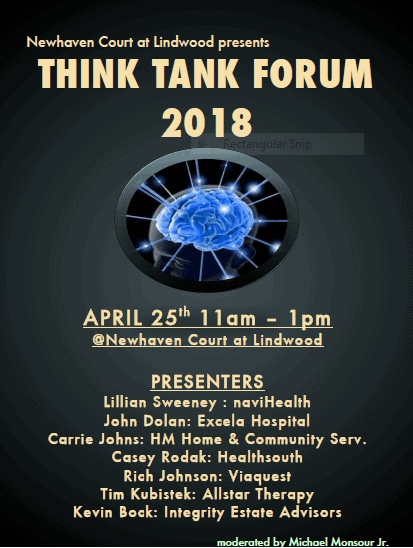 GREENSBURG, Pa.  — Presenters from the health care and senior living-related fields will participate in a Think Tank Forum at Newhaven Court at Lindwood at 11 a.m. on Wednesday, April 25.
"We are focusing on how we can best reduce the readmission rates for patients in hospitals and skilled nursing facilities," said Michael Monsour, Director of Sales and Marketing at Newhaven Court at Lindwood. "We have assembled a great panel to address this very important and timely issue. Healthcare leaders, regional directors and executives from more than 20 companies will be represented at the forum."
The presenters include:
Lillian Sweeney, Network Director, naviHealth, Inc.
John Dolan, Director Clinical Resource Management, Excela Hospital.
Carrie Johns, Regional Network Manager, HM Home and Community Service.
Casey Rodak, Director of Therapy Operations, HealthSouth.
Rich Johnson, President and CEO, ViaQuest.
Tim Kubistek, Vice President of Operations, Allstar Therapies, Inc.
Kevin Bock, President, Integrity Retirement and Estate Advisors.
"We will address this topic from many angles and the presenters will offer valuable insight," said Monsour, who will serve as moderator. "Newhaven Court at Lindwood began holding Think Tanks last year, and we now are expanding the forums to involve a broader scope of healthcare providers to help address this important issue."
Each presenter will speak for approximately 10 minutes. Two Open Forum Discussions will be held, and the brief film "The Respite to Prevent Readmissions Study" will be shown.
For more information, contact Michael Monsour, Director of Sales and Marketing, Newhaven Court at Lindwood, at mmonsour@integracare.com or 724.853.2505.