Colonial Courtyards at Bedford and Tyrone raise $3,500 at Lakemont Park event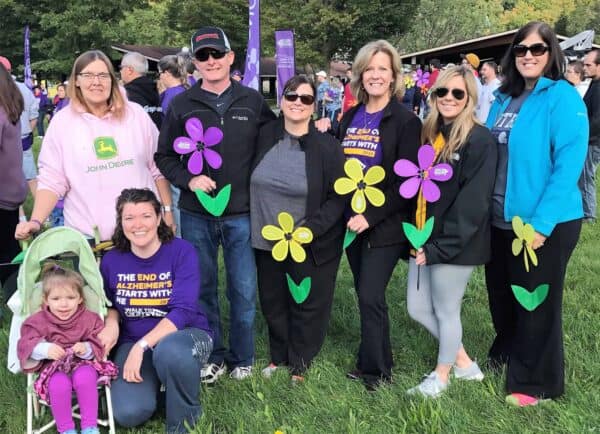 ALTOONA, Pa. – Two IntegraCare senior living communities teamed to raise $3,500 during the Walk to End Alzheimer's held at Lakemont Park in Altoona on Sept. 9.
Team members and their families represented Colonial Courtyard at Bedford and Colonial Courtyard at Tyrone in 'The Walk.' The two communities participated together for a second straight year.
"This is a cause that is so important to all those who work and reside at our community and communities throughout IntegraCare," said Colonial Courtyard at Bedford team captain Bobbi Howsare, who is Director of Sales and Marketing at the senior community. "We're always honored to participate in such an important event. It also means so much to share the experience of 'The Walk' with our friends at Colonial Courtyard at Tyrone."
Colonial Courtyard at Bedford raised $1,500 for the Alzheimer's Association in another strong fund-raising showing resulting from popular events such as the community's Western Barbecue.
Colonial Courtyard at Tyrone raised $2,000, an increase of nearly $1,000 over last year's total. Director of Marketing and Sales Emily Boone served as Tyrone's captain.
"We did a lot of events in order to raise the money we donated to the Alzheimer's Association, and it was a year-round process," Colonial Courtyard at Tyrone Executive Director Lisa Cowan said. "We are continually raising money for this great cause. It was a pleasure to once again walk with the Colonial Courtyard at Bedford team."
Held annually in more than 600 communities nationwide, the Alzheimer's Association Walk to End Alzheimer's is the world's largest event to raise awareness and funds for Alzheimer's care, support and research. IntegraCare communities annually participate in events held throughout Pennsylvania and Maryland.
For more information, contact Colonial Courtyard at Bedford at 814.624.0100, or Colonial Courtyard at Tyrone at 814.686.5970.