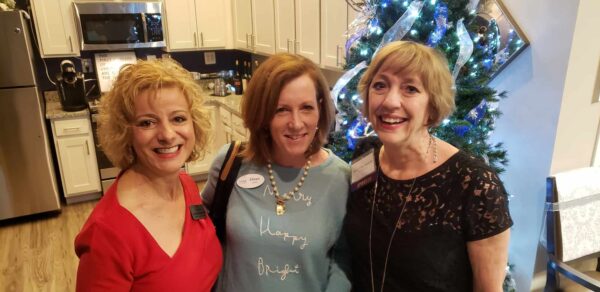 Reston, VA – Hunters Woods at Trails Edge Senior Living Community held a fundraising reception on December 6th. Attendees included Fellowship Square residents and board members, team members, senior providers, and other members of the local community. Delegate Ken Plum , member of the Virginia House of Delegates, representing the 36th District since 1982, also attended.  The fundraiser included a Silent Auction and the sales of snowflake ornaments  for the "Giving Tree" , which will be on display at the Hunters Woods At Trails Edge showroom until the first of the year. The snowflakes are small $20, medium $50, and large $100/each, and those who purchase them can put their name and a message on them. "Giving Tree" Gifts will brighten the holidays for Seniors in need.
"We are a people-centric community, and we know that there is a certain population that we would be unable to serve directly but we still want to help in whatever way we can," states   Annamarie Mariani-Huehn , Executive Director of Hunters Woods at Trails Edge.  "Very early in our development of Hunters Woods at Trails Edge, we connected with Fellowship Square and have been working on various ways to collaborate to serve this under-served population. The holidays are a time where we reflect on how fortunate we are and it often inspires people to think of those less fortunate, so it's become a natural time for giving.  We're hoping that even after this first fundraiser for Fellowship Square, people will open their hearts and their wallets to support the aging community in Reston. We appreciate that Fellowship Square provides a warm home which allows people to remain as independent as long as possible, and with dignity and want to be sure that we're doing our part to raise awareness (and money) to support their efforts."
About Hunters Woods at Trails Edge:  Hunter's Woods at Trails Edge is a state-of-the-art retirement community nestled in a tranquil wooded setting right next to the convenience of the Turquoise Nature Trail, Reston Town Center, and Reston Community Center.  Currently under development, they will offer  210 apartments: 91 Independent Living, 80 assisted living, 24 memory care, and 15 advance care, which allows residents the opportunity to age in place.

Amenities include multiple dining venues  such a as a wood fire pizza oven in a demonstration kitchen, resident gardens, multiple fitness centers, instructional art studio and juried art gallery, movie theater, personal audio concierge available for each apartment, sweeping natural views from five outdoor terraces, undercover parking, and much more!
The Pre-Opening Showroom for Hunters Woods at Trails Edge is located at 2254B Hunters Woods Village Shopping Center in Reston, Virginia 20191.
Upcoming events include:
Dec. 27th, 10am-6pm OPEN HOUSE – Make a New Year's Resolution for a Worry-Free Retirement
Jan. 10th, 11:30-1:30pm Brain Health As You Age
For additional information contact Annamarie Mariani-Huehn (Executive Director) and Cissy Nickel (Community Integration Director) at 703-429-1130 or visit  integracare.com/hunters-woods-at-trails-edge
About The Fellowship Square Foundation: The Fellowship Square Foundation, founded in 1966, is a faith-based nonprofit organization that provides affordable housing and supportive services to seniors and/or persons with disabilities in the Washington, DC metro area.  For those with limited income and resources, the high rents typical to the Washington, DC area make it difficult to find affordable housing. They offer supportive living environments that enhance the independence, self-confidence, and well-being of residents. www.fellowshipsquare.org