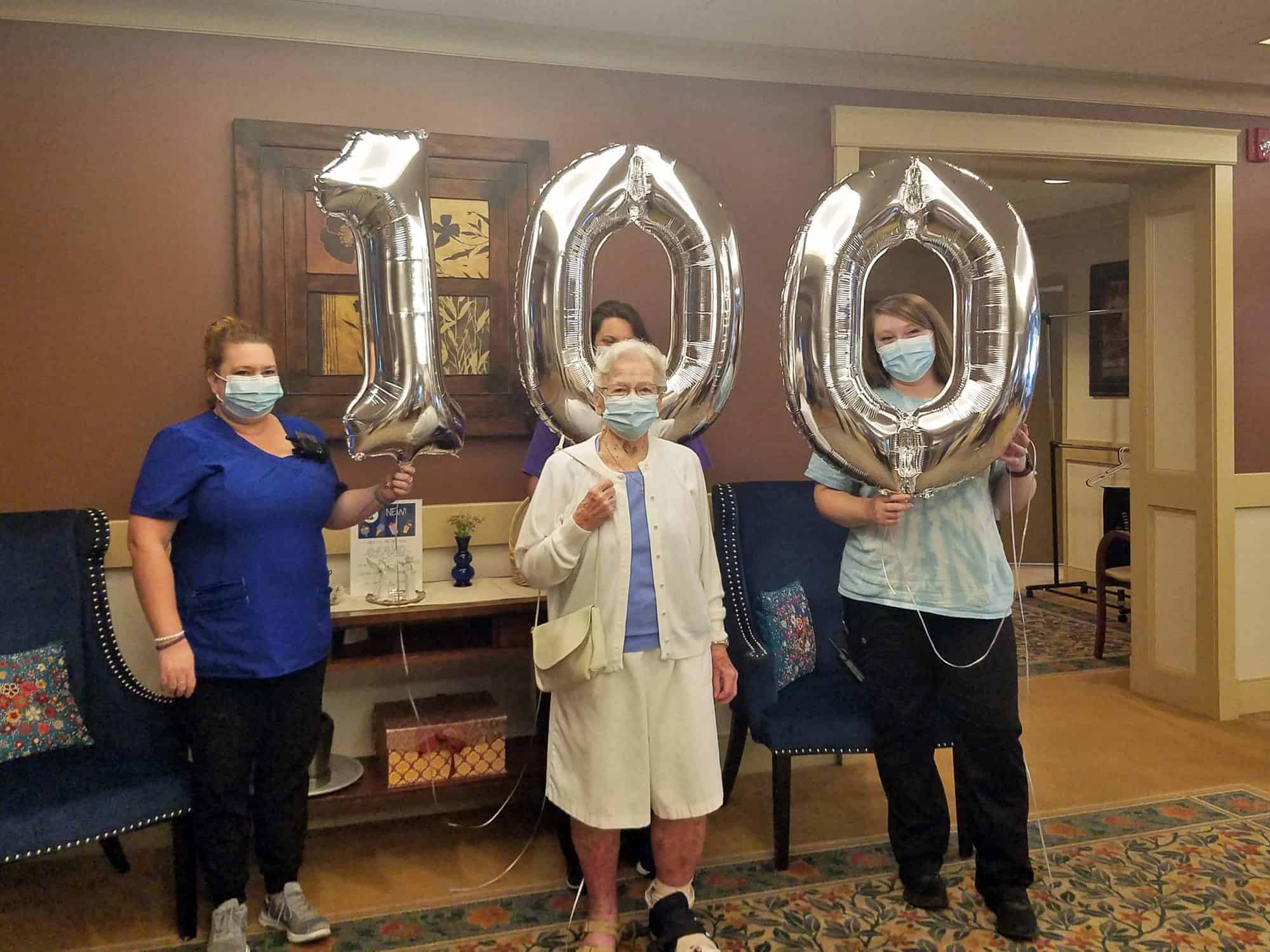 Senior Living Community Safely Recognizes Milestone
CAMP HILL, Pa. – Mildred "Mickey" Clemens received silver balloons in the shape of the number 100. The Woods at Cedar Run team sang happy birthday and presented her with a cake in recognition of a special milestone.
Clemens was born Sept. 4, 1920 in Enola, Pennsylvania. Her 100th birthday brought together her family and the team at The Woods.
"Her family members participated. We sang happy birthday to her and gave her a card," said Jim Border, community relations director at The Woods at Cedar Run. "It was fun."
Life amid the COVID-19 pandemic has led to many adjustments over the past few months, but moments such as this celebration of a milestone birthday continue to bring happiness and create memories for seniors at The Woods and other IntegraCare-operated communities located in Pennsylvania, Maryland and Virginia.
"She's a very quiet person and prefers to remain out of the spotlight," Border said of Clemens. "She spent the day with her family. All of our team members were there wearing masks and social distancing. We took all the precautions."
Mildred, who is affectionately known as "Mickey," shared the moment with her husband Dale, who is 98. Other family members joined the festivities for Mickey, who has resided at The Woods since April 2019 and as a centenarian now is part of a special group.
How Stringent Protocols Made The Celebration Possible
IntegraCare has implemented universal and weekly testing at its communities in three states. Because IntegraCare remained COVID-19 free throughout the ongoing testing, outdoor visiting and planning for family visits recently got underway.
"We have been able to open back up and are trying to allow things to happen in the community," Border said. "We have COVID-19 testing every week. After several weeks of having no positive tests, that's how we move onto the next phase."
The IntegraCare team remains diligent about keeping its senior communities COVID-19 free.
"We have the protocols in place," Border said. "Our residents and our team members are what is most important. This pandemic and many of the guidelines have been going on since March. We've had to adapt. It's important that we're doing this for everyone's safety."
For more information, contact Jim Border, Community Relations Director, The Woods at Cedar Run, at 717.737.3373 or jborder@integracare.com.