Anna Mae Gessner says golf, a great appetite and tolerance are keys to longevity
CAMP HILL, Pa. – Anna Mae Gessner returned to Pennsylvania from Florida in May, a homecoming that also will coincide with a 101st birthday celebration at The Woods at Cedar Run.
Gessner was born July 29, 1917 in Hepler, Schuylkill County, where she grew up and attended high school.
"Anna Mae is one of our newest residents but she has become part of The Woods' family and we are excited to recognize her 101st birthday," said Julie Seifried, Director of Independent Living Operations at The Woods at Cedar Run. "She has lived what many would describe as a beautiful life. She has brought joy to those of us who interact with her on a daily basis at The Woods."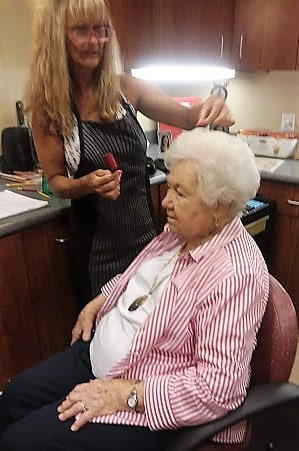 The senior living community will hold a Ladies Victorian Tea gathering on July 29. Gessner will be the guest of honor on her birthday, Seifried said. Pennsylvania Representative Sheryl Delozier will participate in the event.
"Anna Mae once was asked 'What does it take to reach 100 years old?'" Seifried said. "Surprisingly, she said she had a great appetite. Then she rattled off two of the most wonderful truths one could ever mention. 'Be tolerant of everything,' which reflects on how one can be a better human, and she showed her sense of humor by saying, 'Enjoy your Manhattans.'"
Anna Mae met her husband Paul during high school and the couple wed in 1942. Her husband served in World War II and Anna Mae made ends meet on the home front. She trained to become a nurse until an illness intervened and led her to return home.
Anna Mae's father and brothers were funeral directors. During the war, she joined the family business by providing dignity to the deceased through her learning a beauty trade that she utilized at the funeral home.
Anna Mae later opened her own funeral home and used state-of-the-art equipment and techniques of the trade. That equipment eventually was preserved in a museum in Gratz, Pennsylvania. The museum display was named the Anna Mae Rothermal Gessner Collection.
During World War II, Anna Mae's husband sent home much of his earnings. Combined with money Anna Mae saved through working at the funeral home, the couple accumulated enough money to purchase an automobile dealership in Camp Hill, where Anna Mae served as a secretary.
The Gessners raised five children. Anna Mae also learned how to play golf at age 67, and she enjoyed the sport until a shoulder injury she suffered at age 97 prevented her from playing.
Anna Mae and Paul made Florida a second home during the cold Pennsylvania winters, enjoying golf and other activities over the years.
The Woods at Cedar Run now is home to Anna, and her "new" family and friends will help her celebrate her 101st birthday.
For more information, contact Julie Seifried, Director of Independent Living Operations, The Woods at Cedar Run, at 717.737.3373 or jseifried@integracare.com.