Summer program complements senior living community's success in winter months' 'Battle of the Bells'
     CAMP HILL, Pa. – Fifty-four students in Grades 4 to 8 met with senior residents of The Woods at Cedar Run earlier this month, and all 120 participants in the Harrisburg Salvation Army Summer Youth Enrichment Camp will converge on the senior living community during events held over two days in the final week of July.
The inter-generational gatherings continue a tradition in its sixth year at The Woods in Camp Hill. Seniors and young campers will interact during the course of three summer visits, with youngsters from Kindergarten through Grade 3 set to visit on July 28, and the Summer Youth Enrichment Camp Field Day, which unites all 120 campers, will be held on July 31.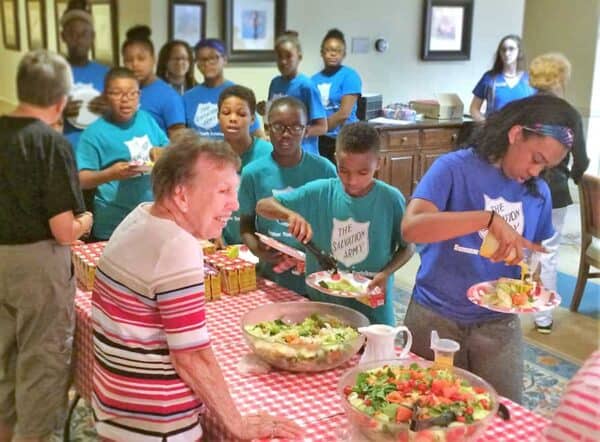 "This is three days of inspirational, inter-generational programming led by the residents themselves throughout the month of July," said Julie Seifried, Director of Independent Living Operations at The Woods. "These visits have been a highlight of the residents' summers since 2011.
"Once the youths step off the big yellow school buses and enter the doors of The Woods, the energy that envelops the community is palpable and the sounds of happiness echo in every corner of every neighborhood," she said. "Residents wait with anticipation to see the smiles, to witness the curiosity and experience the quest for knowledge from each child present. For three days of summer our residents are energized and revitalized by the vibrancy of youth."
The senior residents not only plan each day's curriculum, they educate the campers while conducting one-on-one conversations and interviews. Residents help plan a well-balanced lunch and participate in activities that "allow the youths to experience the wisdom and benefits of age," Seifried said.
The first leg of the camp divided 54 children into 18 groups of three, with each group interacting with seniors. The "Speed Interviews" paired "young and old" participants who engaged in a 7-minute quest per resident and youngsters to learn as much about each other within the time frame before moving on to the next resident.
Perhaps the most common question the campers have for their senior hosts is, "How old are you?" The children also have an opportunity to learn about activities such as crocheting, knitting or completing puzzles. History is a popular subject between the generations.
"Their inquisitiveness impressed me," said Martha Mueller, 80. "I had photos of me figure skating and they would ask where I was when I was in the photo. They were fascinated by my crocheting. I had ceramics that I had made and they asked me how I did that."
The meetings included plenty of questions from youngsters eager to learn about their hosts.
"We had interviews and they asked a lot of good questions, a lot of sports questions," said Don Krieger, 80, who some kids mistakenly believed was a former Hershey Bears hockey player because of his height and collection of hockey-related bobble-heads. "They were very polite and very nice."
The Woods at Cedar Run and the Salvation Army have teamed up during the summer each year since 2011. The senior community also plays a major role during the winter months. The Woods has been grand champion in the Harrisburg Salvation Army Battle of the Bells five of the past six years and was top bell ringer six straight years.
"Who would have imagined that when the 'Sassy Seniors' began ringing the bells during The Salvation Army's Red Kettle Battle of the Bells years ago that not only would their holiday season be full of purpose and joy but their summers would be too?" Seifried said.
On July 28, kids in Kindergarten through Grade 3 will visit The Woods for a schedule that includes a sing-a-long, summer fitness fun, cooking demonstrations, storytelling and speed interviews.
The Summer Youth Enrichment Camp Field Day, which will include summer activities and dance competition, will be held on July 31.
"I was impressed with their appearance, their attitude and their intellect," said Ruth Mione, 81, after the first group of campers marveled at her jewelry collection during their visit. "Some were sports-minded. Some were jewelry-minded. It was a pleasure to be with them, and it was really interesting to hear their questions."
Resident Velma Wheeler, 94, made a point to quiz the young visitors to gauge their knowledge in history.
"I had questions for them dating back to World War II and it was surprising how some of them were very knowledgeable," Wheeler said. "Every group was different and every group was enjoyable to be with. They were very respectful and polite. They had good questions."
Jean Kauffman, 89, agreed.
"The kids were very interesting in that they were inquisitive," Kauffman said. "They observed everything we showed them. They were very polite. When they finished they said, 'Thank you.'"
For more information, contact Julie Seifried, Director of Independent Living Operations, The Woods at Cedar Run, at jseifried@integracare.com or 717.737.3373.