The Golden Years and New Beginnings
Retirement marks the close of one chapter and the dawn of another. As the pace of life slows down and one has the liberty to reflect, the age-old adage, "Age is just a number" takes on a fresh meaning. This phase, often termed as the 'golden years', offers unparalleled freedom. Yet, many seniors find themselves pondering over the past, when the present has so much to offer. One such offering is the opportunity to take up a new hobby.
Why picking up a hobby is more than just killing time
The idea of indulging in a hobby isn't merely to while away the hours. Hobbies hold a deeper, more profound significance. They are gateways to self-discovery, paths that lead us to new horizons and help in cherishing every day. Childhood was a time of unbridled curiosity, where every stone turned or corner explored held a mystery. Picking up a new hobby can rekindle this sense of wonder, reminding seniors of the joy of exploration.
Cognitive Benefits
Sharpening the mind
As we age, our mental faculties require as much exercise as our physical ones. The principle of "use it or lose it" applies as much to the brain as it does to muscles. And what better way to stimulate the brain than with a new hobby? Whether it's strumming the strings of a guitar, capturing the world through a paintbrush, or embarking on a journey through a jigsaw puzzle, each of these activities nudges the brain to think, to strategize, and to innovate.
Brain plasticity and memory
Neuroplasticity, a concept that might sound complicated, is the brain's remarkable ability to adapt and evolve. With every new task or skill learned, the brain forms fresh neural pathways. When seniors engage in new hobbies, they're essentially boosting their brain's plasticity, enhancing memory retention and cognitive abilities. It's akin to sending the brain to the gym, ensuring it remains fit and agile.
Physical Advantages
Enhanced mobility and dexterity
Who said hobbies are only for the mind? Many activities offer substantial physical benefits. A waltz class can strengthen the legs, gardening can improve hand-eye coordination, and yoga can amplify flexibility. With each movement, seniors tell their bodies that age is no barrier, and the body reciprocates with improved mobility and grace.
Fending off diseases
The connection between an active lifestyle and good health isn't new. Physical hobbies serve as a shield against numerous age-related ailments. Regular physical activity can mitigate the risks of osteoporosis, keep arthritis at bay, and promote overall well-being. It's a holistic approach where the journey to wellness is as enjoyable as the destination.
Emotional Wellbeing
Building self-esteem
Remember the pride that swelled within when you achieved something as a child? Maybe it was your first solo bicycle ride or that complex puzzle you completed. Such achievements boost confidence, a feeling that's timeless. For seniors, mastering a new hobby can reignite this sentiment, reminding them of their capabilities.
Reducing feelings of loneliness
For some, retirement can bring along a sense of isolation. Here, hobbies play a dual role. Not only do they offer a distraction, but they also offer a community. Joining classes or groups aligned with one's hobby paves the way for social interactions, new friendships, and a life filled with shared laughter and camaraderie.
Social Perks
Meeting new friends
Shared passions form the strongest bonds. It could be the shared silence of a reading club, the rhythmic movements of a dance class, or the collective awe of a nature hike. Such shared experiences not only provide new friendships but also enrich existing ones.
Sharing experiences and stories
There's a unique magic in sharing stories and experiences. When these tales revolve around a shared hobby, the bond deepens. It's a bridge of mutual passion that connects hearts and fosters deeper understanding.
The Pleasure of Mastery
Experiencing achievement
The sense of accomplishment when one masters a new skill is unparalleled. It serves as a testament to one's abilities, pushing boundaries, and redefining what's possible.
The joy of continuous learning
The quest for knowledge is endless. Each new hobby is a chapter in this unending journey, a testament to the fact that learning has no age. With every new skill or hobby, seniors can relish the joy of discovery and the thrill of challenges overcome.
Creativity Unleashed
Unlocking Hidden Talents
Often, due to the demands of career and family, many innate talents remain dormant or unexplored during our younger years. Retirement provides a golden opportunity for seniors to delve into these untapped reservoirs of potential. Whether it's sketching, writing poetry, or crafting, a hobby can unlock hidden talents, bringing immense personal satisfaction.
A Gateway to Modern Technology
Embracing hobbies in the digital age often means crossing paths with modern technology. Photography might lead to learning photo editing software. Writing might introduce the world of blogging or e-publishing. This interaction with technology not only keeps seniors updated but also bridges the generational gap, allowing them to connect better with younger generations.
Holistic Health Benefits
Stress Reduction and Mental Health
Engaging in activities one loves can be a therapeutic experience. Activities like knitting, gardening, or even bird watching can be meditative, helping to reduce stress and anxiety. In an era where mental health is crucial, hobbies act as a cushion, providing solace and mental relaxation.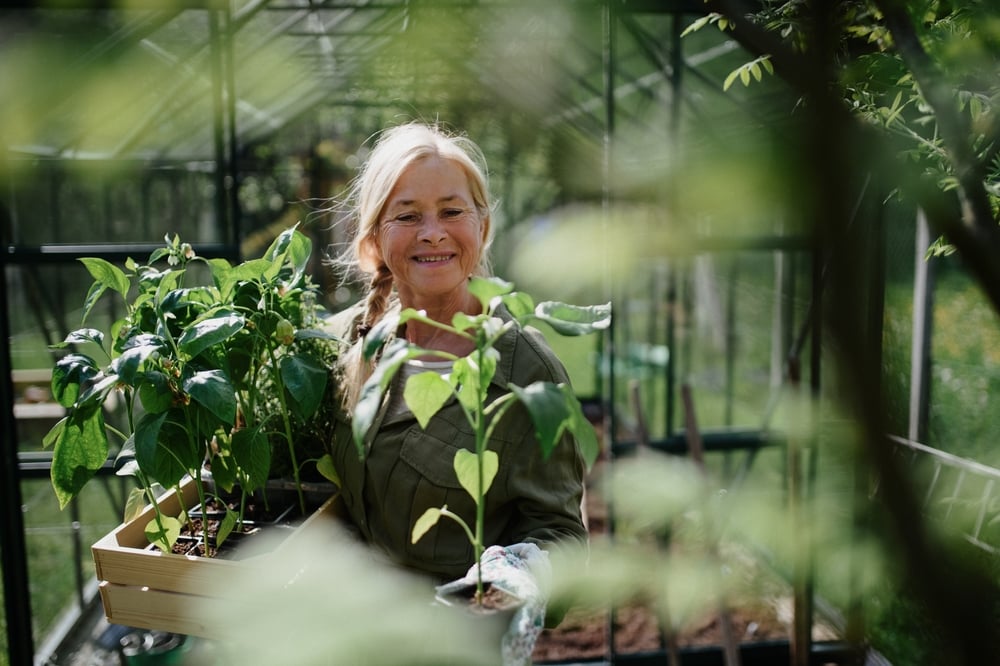 Sense of Contribution and Legacy
Taking up hobbies, especially those that involve creating, can give seniors a feeling of leaving a legacy behind. Be it writing a memoir, crafting, or planting a garden, these creations can be handed down, serving as cherished memories for loved ones. It provides a tangible sense of contribution, leaving an imprint for future generations to admire.
A Renewed Sense of Purpose in Retirement
Life's twilight years needn't be a time of slowing down. With a new hobby, they can be a time of rediscovery, of new passions, and renewed zest for life. The golden years offer a canvas, and hobbies provide the palette to paint a vibrant, fulfilling life. So, why let these moments slip away? Dive deep into a new passion and watch as the joys of life unfold anew!
Discover a Vibrant Senior Living Community Tailored Just for You!
Seeking a place where you can continue your journey of exploration, growth, and rediscovery? At our senior living community, we've curated an environment that celebrates your individuality and passions. From assisted living/personal care to support your unique needs, to memory care that ensures your cherished memories stay alive, we've got it all. Prefer a life of independence? Explore our independent living options. And for those in need of a temporary haven, our short-term/respite care is the perfect fit. Dive into a community that understands, values, and elevates the senior experience. Come, be a part of our vibrant family and make your golden years truly shine!