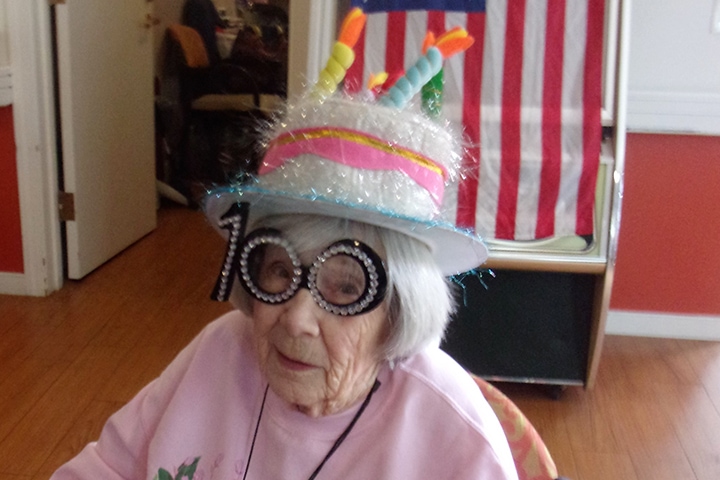 The Newhaven Court at Lindwood senior living community lost a friend and a true patriot, as centenarian resident Barb Preli passed away on the morning of July 4, 2023, a week after this story was posted. This tribute to Barb's extraordinary life and service to her country will remain posted in her memory.
Adopting 'Just Do It!' Philosophy, Centenarian Shares Her Secret to a Long, Fulfilling Life
GREENSBURG, Pa. – Newhaven Court at Lindwood's newest centenarian, Barb Preli says she borrowed a philosophy made popular in the 1980s by multi-sport superstar athlete Bo Jackson and Nike.
"Just Do It!"
At least that's the reflection Preli shared when someone asked her what is the secret to a long and happy life?
"I don't know if there is a secret," said Preli, who turned 100 on May 24. "I just did it! Make your own happiness."
Newhaven Court at Lindwood, a senior living community in Greensburg, recognized Preli on her 100th birthday and also showed appreciation for her service to her country in the U.S. Marine Corps during the World War II era.
"Barb is a special person who always provides humor and insight," said Lori Grant, Executive Operations Officer at Newhaven Court at Lindwood, recently named a Best Assisted Living and Best Memory Care community for a second straight year by U.S. News & World Report.
"Her story is inspirational. She enlisted in the Marine Corps with her childhood best friend and served five years."
A native of Hartford, Connecticut, Preli served in the U.S. Marine Corps from 1944 to 1946 and then was in the U.S. Marine Corps Reserves from 1947 to 1949. During World War II, she was stationed in Camp Lejeune. Preli advanced to the rank of corporal and was a key punch operator/book keeper.
"I felt it was important and I wanted to do my part to protect our country," Preli said.
Barb and her late husband Reg Preli, had four children, three girls and one boy. She had a career in bookkeeping for The Hartford Insurance Company.
For more information, contact Greg Berkebile, Community Relations Director, Newhaven Court at Lindwood, at gberkebile@integracare.com or 724.853.2505.