Gold Award honors IntegraCare Community for 'Care and Compassion'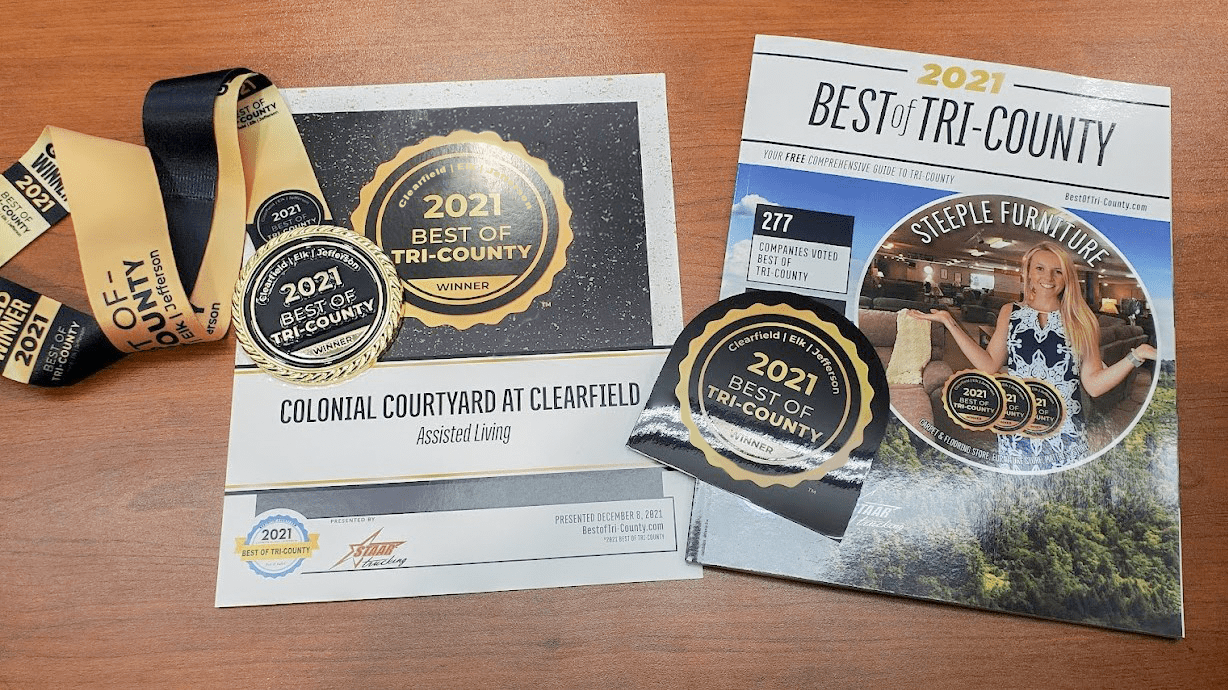 Colonial Courtyard at Clearfield recently received the "Best of Tri-County" Gold Award as the best assisted living community in Clearfield, Jefferson and Elk counties.
The 2021 contest, which accepted nominations and votes from the public, is held by Priority Media in DuBois, the parent company of well-known regional radio station Sunny 106.5 FM.
"I am very proud of the hard work of my team that led to Colonial Courtyard at Clearfield receiving this award," said Miranda Coulter, Executive Operations Officer at the senior living community at 1300 Leonard Street in Clearfield. "The care and compassion they show our residents on a daily basis is phenomenal.
"They are an outstanding team, and we are grateful for each of them," she said. "We also are grateful to receive such recognition from Priority Media and those in the public who nominated and voted for us."
The Best of Tri-County Awards took on added significance this year, according to organizers who posted on the website bestoftri-county.com:
"Adversity… As a community, we'd never faced more adversity than we did during the pandemic. Together we made it through the worst of COVID-19 and now we look to the future," the website stated.
"Our amazing business community members survived the pandemic with resilience, and continually adapt business models to the ever-changing rules and regulations to serve their clients and customers. It's not easy being in business, yet our local businesses do the best they can with what they have every day," the post continued.
"So, let's celebrate our local business community! The Best of Tri-County is a chance to engage our listeners, fans and followers once again as they vote for their favorite local businesses in over 100 various categories."
A link to Colonial Courtyard at Clearfield's Gold Award on the Best of Tri-County website.
For more information, contact Miranda Coulter, Executive Operations Officer, Colonial Courtyard at Clearfield, at mcoulter@integracare.com or 814 765.2246.