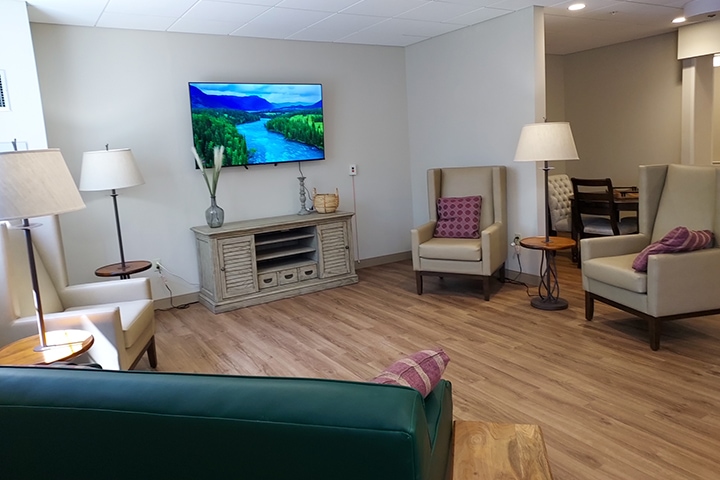 Exton Senior Living will celebrate upgrades and renovations made in the two years since IntegraCare has managed the community. The Life Bridges living room and television area is only one example of the renovations.
IntegraCare's Upgrades to Enhance Senior Residents' Quality of Life will Take Center Stage
EXTON, Pa. – In only two years, Exton Senior Living has experienced a transformation worth celebrating.
A "Grand Re-Opening Event" will be held on Aug. 16-17 to celebrate the changes made to enhance the lives of senior residents since IntegraCare took over operations of the personal care and memory care community in October 2021.
"We remain true to offering value, dignity and peace of mind, and are inviting people to come and experience our new look," said Janet Mackay, Community Relations Director at Exton Senior Living. "We are thrilled with the upgrades to our incredible community. The Grand Re-Opening will enable both dignitaries and the general public to experience the cozy, upbeat and friendly environment filled with beautiful living spaces, happy residents and a team who is committed to providing an amazing quality of life for seniors and their families."
A private event for dignitaries and special invitees will be held from 11 a.m. to 1 p.m. on Aug. 16. A ribbon-cutting and flag ceremony will be held. Speakers will address the attendees, and a catered lunch will be served.
The public may attend from 1 to 4 p.m. on Aug. 17. A grand entrance greeting is planned and attendees will receive commemorative glasses. A buffet and entertainment will be part of the program, which also includes a staff meet-and-greet as well as tours of the community.
"We are excited to showcase the renovations and improvements made in two years," said Casey Counseller, Executive Operations Officer of Exton Senior Living. "The investment made in our community to improve the lives of our team members and our senior residents is impressive. Exton Senior Living has undergone renovations to enhance the appearance of our community and quality of life of our residents."
Upgrades and renovations included work in the lobby; dining room; library; movie theater; wellness center; private dining room; activities center; family conference room; discovery room; pergola; Life Bridges area; and updated apartments.
For more information, contact Janet Mackay, Community Relations Director, Exton Senior Living, at 610.592.0200 or jmackay@integracare.com.