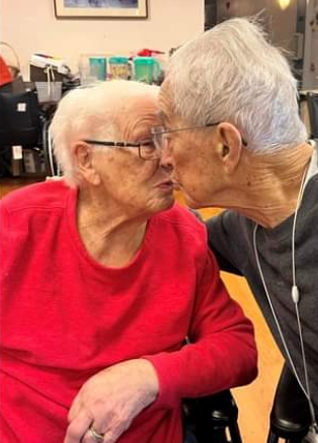 Grace, left, and Edward Lawrence share a Valentine's Day kiss two months after they were reunited at Exton Senior Living. Grace is a resident in Memory Care. Ed moved into the community in December to rehabilitate an injury while also being close to his wife of nearly 72 years.
Emotional, Tender Kiss Highlights Special Moment for 98- and 92-Year-Olds
EXTON, Pa. – Throughout more than 70 years of marriage, Edward and Grace Lawrence rarely were apart as they raised three children and welcomed four grandchildren and six great-grandchildren to the family.
But in March 2022, Grace, 92, moved to Exton Senior Living in the Memory Care unit. Edward, 98, missed spending as much time with his wife as he'd been accustomed to over the years.
Then, an unfortunate incident inadvertently led to a happy reunion. Edward suffered a hip injury that prevented him from visiting Grace regularly. Instead, he decided to join the Exton Senior Living community in December, so that he could receive the personal care he needed to recover.
Exton Senior Living is a U.S. News & World Report Best of Assisted Living and a Great Place to Work-Certified senior living community operated by IntegraCare, which has 18 senior living communities located in three states.
"Edward chose Exton Senior Living to rehabilitate his hip and to heal, but also he wanted to be closer to Grace," said Janet Mackay, Community Relations Director at Exton Senior Living. "They've been married more than 70 years and are so happy to be together again."
A member of the Exton Senior Living team documented a special moment soon after Edward moved into the community. A photograph shows the couple sitting together, with Edward looking into his wife's eyes while fighting back tears.
"The day they were reunited was such a beautiful day, and we were able to capture it all on camera," Mackay said. "He was so happy that tears flowed as he repeated how happy he was to see his 'Baby Doll,' a nickname he calls her.  Since then, they have had many opportunities to be together to enjoy musical events and even share a special kiss on Valentine's Day, another moment we were fortunate enough to photograph."
The Lawrences were married on July 14, 1951 and will celebrate their 72nd anniversary this year. Back in 1951, the couple had a Niagara Falls honeymoon.
A U.S. Army veteran, Ed Lawrence served during World War II.
Edward and Grace Lawrence enjoyed traveling together throughout their marriage. An avid golfer, Edward played on many courses both in the United States and internationally.
"Edward and Grace are a special couple," Mackay said. "And, they're together again."
For more information, contact Janet Mackay, Community Relations Director, Exton Senior Living, at jmackay@integracare.com or 610.594.0200.