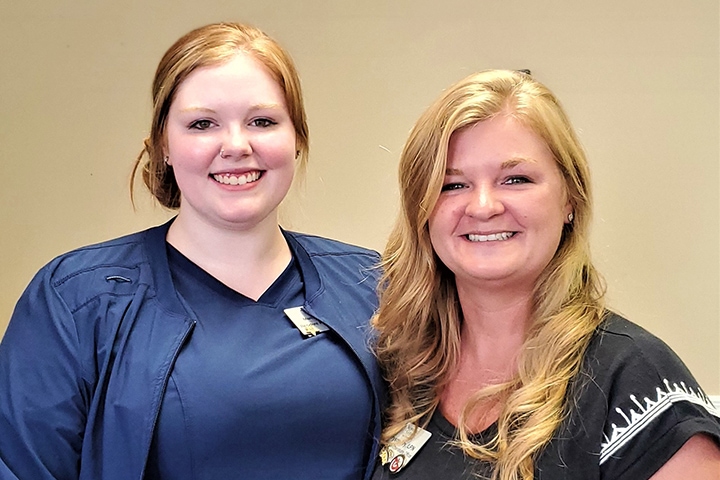 Newhaven Court at Clearview Resident Wellness Associate Marissa Menchyk spends time with her sister, Krystle Pry, the senior living community's Executive Operations Officer. The two sisters are among a group of family members who are part of the Clearview team.
Three Sets of Sisters, Mother-Daughter duos and Husband-Wife Team Members Work to Improve Senior Residents' Lives
BUTLER, Pa. — When Krystle Pry says her team at Newhaven Court at Clearview is a family, she means it.
The senior living community in Butler has three sets of sisters, three mother-daughter combinations and a husband and wife working on the team.
Pry has been at the IntegraCare-operated senior living community since 2007, and she recently moved into the role as Executive Operations Officer, fronting a team dedicated to improving the lives of seniors.
This family-first approach at Newhaven Court at Clearview comes naturally, as mothers and daughters, husbands and wives and sisters work side by side.
"The culture and environment in our community is based on IntegraCare's 3-Dimensional Focus," said Pry, whose sister Marissa Menchyk is a Resident Wellness Associate at Clearview. "We strive to provide a positive, safe and comfortable work environment for our team, and our team in turn improves the lives of our residents and gives a peace of mind to the residents' family members. The people who work here are the heart of our community.  Having so many team members who are family only makes it feel more like home for many of us."
Resident Wellness Coordinator Stephanie Balik has been part of the Newhaven Court at Clearview team since 2016. Her daughters — sisters Madison Balik and Summer Balik — each are resident wellness associates.
"Working with my daughters is always a great time. It does come with its challenges sometimes because you do not want other staff to think they are being favored," Stephanie Balik said. "It is nice to have someone to talk to about work and sometimes vent to about things that happened."
Her daughters also appreciate the tight-knit team that includes the people who have a special bond with them.
"Working with family makes work feel enjoyable and more relaxed," Summer Balik said. "Working with family means you always have someone to talk to about issues you face at work."
The team cares about each other and the residents. Everyone is in some ways considered to be part of a large family, even if they aren't an extension of a true family tree.
"I think that it says Newhaven is like a big family," Madison Balik said. "No matter if you are blood related or not, Newhaven will always feel like home, not only to the employes but also to the residents of Newhaven Court at Clearview."
Medication Associate Maricris Cooper, who has been part of the team for eight years, has daughters Colleen Dickson, a resident wellness associate, and Samantha Cooper, in food service.
"Maricris is a dedicated and steady member of our Life Stories team, caring for our residents who require a secured dementia unit to meet their needs," Pry said. "Marcris has had perfect attendance for the last seven years, and she won a brand-new car from IntegraCare for her attendance as part of our Continued Attendance Rewards Program in 2021."
Sisters Kiera Muisiner and Madisyn Muisiner are resident wellness associates. Husband Tim Palmer, a safety and maintenance engineer, and wife Amanda Palmer, a hospitality executive associate, also are part of the Clearview family.
LifeStages Director Heather Allison and her daughter, Emma McAnallen, who is part of the dining team, form another mother-daughter tandem.  Allison oversees activities in Senior Living and Life Bridges and has been part of the team for three years. McAnallen started in her position this spring.
"We think highly of our team members, so when one of their loved ones are looking for an opportunity, we want to be able to offer them that," Pry said. "I think it also brings our families and our residents' family members a peace of mind."
Pry appreciates the time she spends sharing the work experience with her own sister.
"Marissa is working full-time as a resident wellness associate and has a love for being a part of our residents' lives just like I do," Pry said of her sister. "I am grateful to have the opportunity to see her not only succeed in her position, but have the same opportunities for growth as I have had at Clearview. I love being able to share my knowledge and experiences with her.  I have had many great mentors at Clearview, I hope to be that for her."
For more information, contact Krystle Pry, Executive Operations Officer, Newhaven Court at Clearview, at kpry@integracare.com or 724.477.8701.