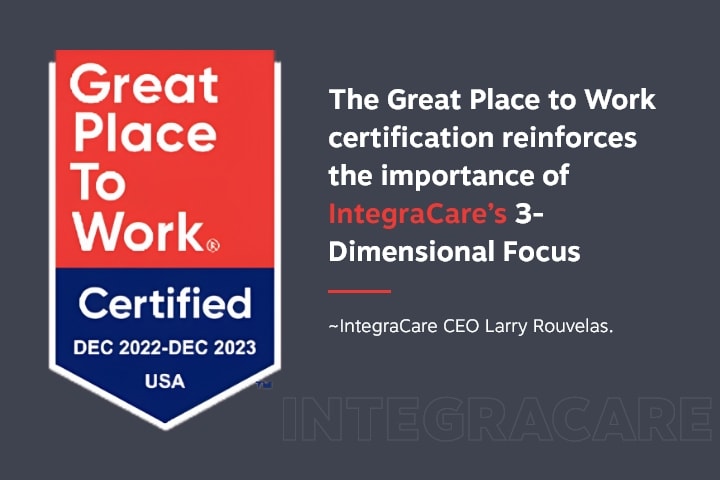 GREENSBURG, Pa. – Newhaven Court at Lindwood has been certified as a Great Place to Work by World's Best Workplaces.
"I've been part of the team at Newhaven Court at Lindwood for almost 14 years," said Karen Severini. "Our staff is experienced with a significant tenure, and we go above and beyond the call every single day. We all have good days and challenging days, but those challenging days are always easier to get through when you have co-workers and residents that are like family."
Newhaven Court at Lindwood is among 15 IntegraCare senior living communities to achieve the prestigious certification. World's Best Workplaces' data scientists gather and evaluate employee feedback and use rigorous methodology to recognize companies who have built high-trust, high-performance company cultures.
"The Great Place to Work certification reinforces the importance of IntegraCare's 3-Dimensional Focus," said IntegraCare CEO Larry Rouvelas. "We create a culture of care and well-being through providing a support system for our team members, who in turn provide excellent care for our residents, and peace of mind for their loved ones. We improve the quality of life for our team members, our residents and their family members."
The Great Place to Work research includes data compiled from over 100 million employee engagement surveys worldwide. The annual study of workplace excellence is considered a "gold standard" certification process based on employee feedback and details about the programs and practices that make a workplace unique.
"We are so happy to have achieved the Great Place to Work award because people are at the heart of what we do," said Shannon Joyce, Director of Human Resources and Risk Management at IntegraCare. "We have always strived to create a culture where we put our team members first, and we create many of our benefit programs with that in mind. It really is an honor to know that our teams feel the same way.  We have always believed we were a great place to work, and now we have the award to support it."
IntegraCare team members in senior living communities located in three states responded anonymously to the survey conducted by World's Best Workplaces.
"I absolutely love it at Newhaven Court at Lindwood," said team member Mike Rodgers. "The staff is amazing and the residents also are amazing."
Responses addressed many topics, including how the IntegraCare leadership team welcomes prospective and new team members.
For more information, contact Greg Berkebile, Community Relations Director, at gberkebile@integracare.com or 724.853.2505.