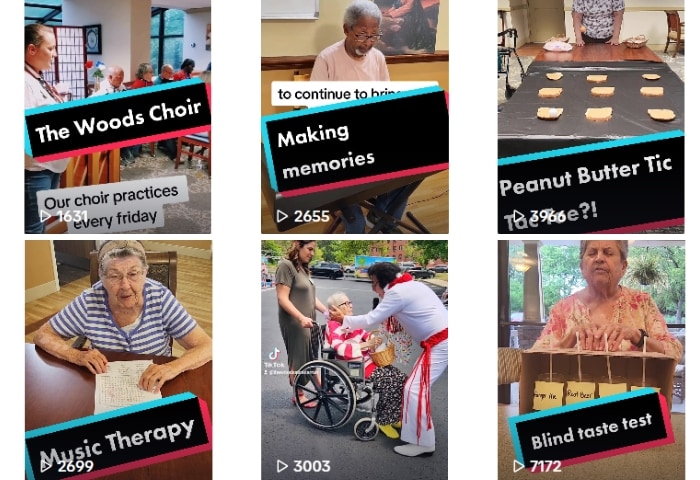 The Woods at Cedar Run Embraces Social Media Trend, Showcasing Creativity, Laughter in Engaging Videos
CAMP HILL, Pa. — They might not have as many followers as famous as TikTok influencers Jimmy Fallon, Taylor Swift, The Rock or Ariana Grande, but residents at The Woods at Cedar Run have emerged as trend-setters in their senior living community.
The Woods at Cedar Run TikTok Club has posted seven videos since it was introduced on the popular video-sharing app in June. TikTok boasts of having 1 billion active users on a monthly basis, so the seniors are in good company.
"We started this club because I wanted to create something that the residents and team could have fun together with," said Ryen Novosel, Dining Experience Director at The Woods. "The club is comprised of team members and residents, and we have approximately 15 members.
"We meet every other Wednesday to talk about ideas and watch TikToks on our For You Page (FYP) in our movie theater," he said. "The residents have started to love coming up with new ideas and watch videos to give them inspiration."
The senior residents enjoy being part of the trendy crowd and have participated in creating fun videos. Some of those involve residents lip-syncing to popular songs and other videos highlight seniors playing musical instruments. A heart-warming TikTok post features an Elvis impersonator singing to residents at The Woods, and a hilarious video spotlights residents bouncing ping-pong balls onto a table while trying to get them to stick to peanut-butter-covered slices of bread as the Survivor song "Eye of the Tiger" from the movie Rocky III plays.
https://www.tiktok.com/@thewoodsatcedarrun?is_from_webapp=1&sender_device=pc
"Our residents have been engaged in the TikTok Club and now have more than 375 followers," said Karly Sarvis, Executive Operations Officer at The Woods at Cedar Run. "This is a fun activity but it really has done wonders for our residents, who truly are having fun both participating in the videos and also are enthusiastic during the planning stage. This is a great inter-generational activity that ties our seniors into a trend traditionally associated with a younger generation."
The senior residents also received plenty of encouragement from high school students who are part of the team at The Woods.
"We were able to get so much momentum right out of the gate because the dining department is comprised of 20 or so high school students," Novosel said. "They all 'liked' and shared all the videos we post, and they share our page to their snapchat stories. By posting the videos at certain times of the day and boosting their initial views immediately after posting, we were able to get thousands of views instead of hundreds like typical TikTok pages and posts."
Novosel said additional videos are planned for future TikTok posts featuring the senior residents. The story ideas range from practical jokes, choreographed dances and highlights from the senior living community's game nights.
For more information, contact Ryen Novosel, Dining Experience Director, The Woods at Cedar Run at 717.737.3373 or rnovosel@integracare.com.