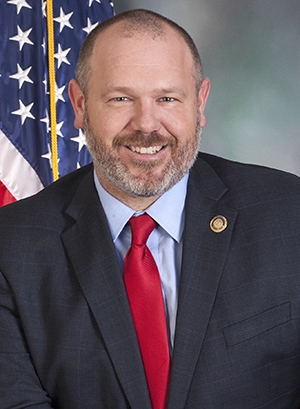 State Rep. Jesse Topper
BEDFORD, Pa. – State Rep. Jesse Topper will entertain senior residents of Colonial Courtyard at Bedford during a piano performance on March 17.
The performance is scheduled at 10 a.m. on March 17 in the senior living community located at 220 Donahue Manor Road in Bedford. Colonial Courtyard at Bedford has its own piano situated in the front lobby of the building, and residents occasionally play the musical instrument.
"It means a lot to us, especially with Rep. Topper's being able to spend time with everyday people in this community," said Alicia Winters, LifeStories Director at Colonial Courtyard at Bedford. "This shows he's got a really great heart and it shows what type of person he is."
A member of Topper's Bedford office said he has enjoyed playing the piano for much of his life. Topper is serving his fifth term representing the 78th Legislative District, which includes Bedford and Fulton counties.
He and his staff previously recognized Colonial Courtyard at Bedford residents on special birthday milestones or for other achievements. Winters believed this will be his first piano performance at the community.
"Our residents really love live shows," Winters said. "It's enjoyable and soothing to them, and the music often reminds the residents of the so-called, good-old days."
A lifelong resident of Bedford, Topper is active in the community where he once participated in 4-H and the Boy Scouts of America, earning the rank of Eagle Scout. He also coaches football at Bedford High School, where he was a three-sport athlete.
"We're looking forward to the performance," Winters said.
For more information, contact Alicia Winters, LifeStories Director, Colonial Courtyard at Bedford, at awinters@integracare.com or 814.624.0100.